Could stores reallocate resources using electronic shelf labels?
At this year's Retail Business Technology Expo I was introduced to a company called DisplayData, which put me on to a nifty little device called an electronic shelf label, or ESL.
Electronic labels, which can be updated remotely, are displayed under products in a store, replacing traditional paper labels.
This eliminates the need for staff to manually change paper displays so the workforce can be re-deployed to different in-store tasks, increasing efficiency.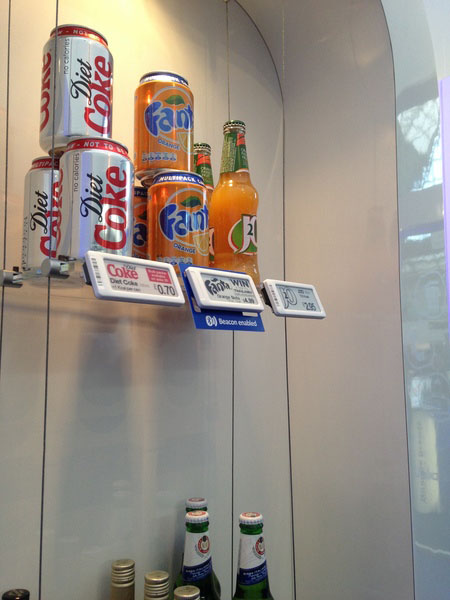 The labels, which are very similar to technology currently being trialled in the Sainsbury's in Old Street London, use electrophoretic display technology.
This essentially means the display is full of capsules containing ink which will either be coloured or not depending on its electric charge, giving them the appearance of pixels.
Stores can use this technology to cut down on the cost of paper labels (every little helps) but it also gives them the ability to change prices at the click of a button.
This gives them endless opportunity for utilising specific times of day, creating deals based upon daily trends and footfall, or shifting stuff that's not selling.
The labels work well with perishable items such as fresh produce, which often needs to be shifted before the end of its shelf life.
A representative from DisplayData said to fully utilise the potential deals and optimise sales, staff would have to change paper labels around the store approximately 500 times a day. This is obviously achieved much more easily with electronic labels.
The store can develop their own applications to control the labels with provided APIs to match the store's needs.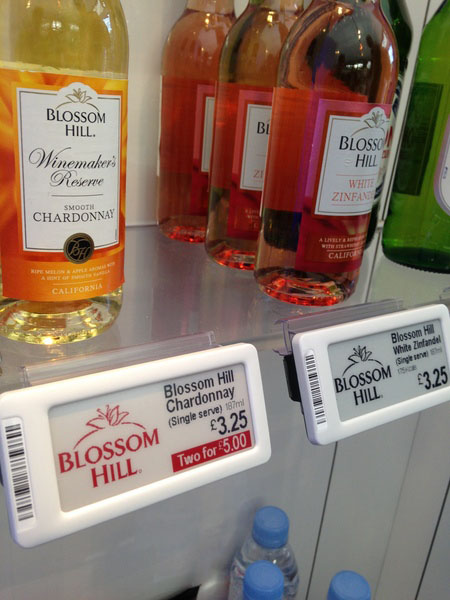 A communications hub sits in each of the stores, which feeds information from the top to the price tags. Each tag can also be used as a Bluetooth beacon to feed deals and vouchers to a customer's phone if they have a mobile coupon or wallet scheme, driving further sales.
The control hub is capable of controlling up to 65,000 labels, and the labels give feedback about whether they have updated and if they are broken.
Retailers are constantly looking for new ways to give value and purpose to visiting stores, and this solution does that whilst saving paper.
UPDATE:
A commenter asked me how a customer shopping in the store would know the price of their item would not increase from the time they took it from shelf to till. I approached DisplayData about it and got this response:
"The first point to make is that retailers by law can only reduce prices in store during trading hours. So if the price does change between the customer picking it off the shelf and reaching the till it will always be lower. Price rises do take place but have to be implemented before or outside of trading hours.
In terms of the mechanism to update the ESL this is typically taken from a central system and will utilise the same data to update the tills. The till software is updated first and then the ESLs are updated on the shelf edge. So no price reductions are applied on the shelf until the till software has been updated."