CES 2013: "Honey I blew up the PC" - Lenovo launches 27-inch Horizon Table PC
While some hardware companies are shrinking tablets from 10 to 7-inches, some on the other hand are blowing up computing hardware to become all-in-one devices at the 20-inch plus range.
Larger than Sony's 20-inch Vaio Tap 20, Lenovo's IdeaCentre Horizon Table PC stands at a staggering 27-inches, and was showcased this evening at the CES Unveiled event in Las Vegas.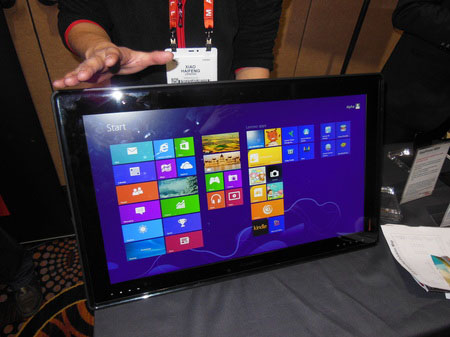 Dubbed as a "table PC", this is the company's first multi-user PC, thanks to the ten finger input which allows two hands to operate the device at the same time – very Minority Report.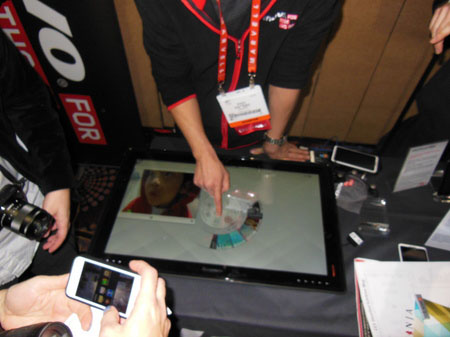 The "table PC" uses Windows 8's touch functionality, with a full HD 27-inch screen and an Intel Core i7 processor.
The Horizon also comes with its very own Lenovo App Shop, which is powered by Intel AppUp, with 5,000 entertainment apps available at present.
At a weighty 8Kkg, I found it very difficult to pick up, and like Sony's Vaio Tap 20 weighing 5kg, I was terrified of dropping it, so couldn't imagine picking it up to take from room to room regularly. But it really is a beautiful piece of hardware that could be used for project planning and presentations in an office environment.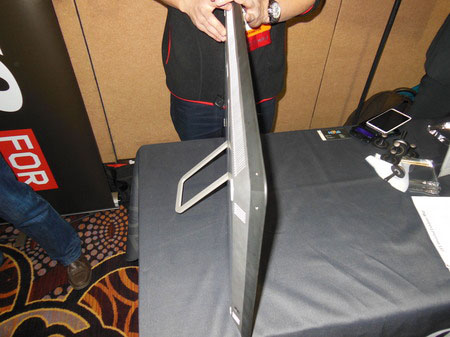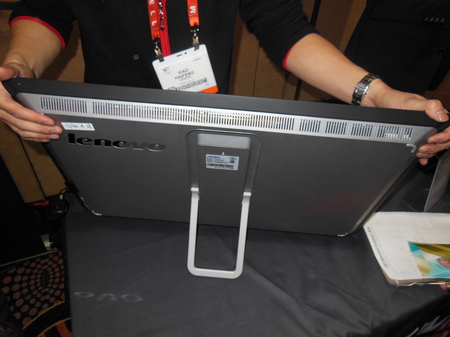 Horizon also has a "smart hinge", which lets the device stand upright like a traditional PC, but when laying it flat, Lenovo Aura automatically activates. This multi-touch interface allows multiple users to access information on the screen.
You can also purchase a mount, which is in fact a height adjustable table, allowing groups of people to gather around and interact with the device at various angles. Lenovo also showed off its attractiveness to gamers by demonstrating a game of air hockey at CES, complete with touch-sensitive pucks. Strangely, with the back drop of Las Vegas, I didn't get to see a game of Roulette on the Horizon, as e-dice are available to do so.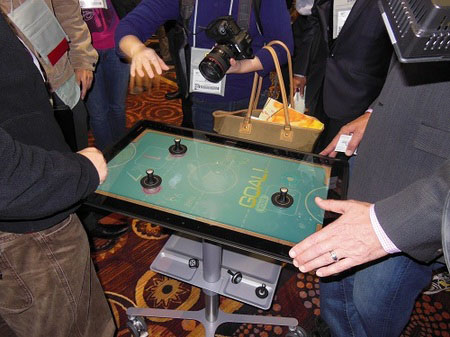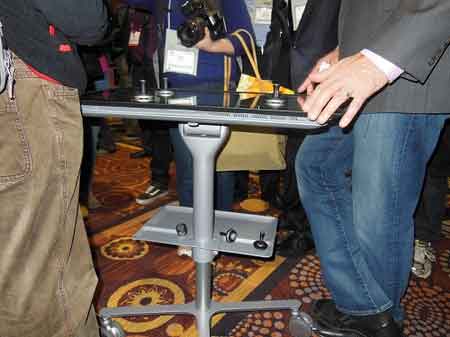 The device will be available in Europe and the US in the summer at an estimated price of between $1,500 – $1,600.
If 27-inches wasn't enough, Lenovo has also demonstrated an early concept 39-inch "table PC" named Gamma, showing that the company are thinking the future is bigger and better.
"We've seen technology shifts across the four screens, from the desktop to the laptop, tablet and smartphone, and yet, while people have more computing power than ever before, there is still room for technologies like Horizon that bring people together. Horizon makes personal computing interpersonal computing with shared, collaborative experiences among several people," said Peter Hortensius, president, Product Group, Lenovo.