CES 2013 HANDS ON: Sony Xperia Z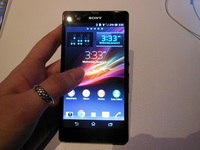 Sony has unveiled its new flagship smartphone handset at CES in Las Vegas, the Xperia Z. The smartphone comes with a full HD screen, Snapdragon S4 Pro quad-core processor and it comes ready for 4G use.
It is also waterproof, so no need to worry about sending text messages from the confines of the tub. Sony claims the device will survive in up to one metre of water for 30 minutes, which would come in handy when you want to clean your phone – just rinse it in the sink.
The device screen is 5-inches, which borders on the phablet territory of the Samsung Galaxy Note, which stands at 5.5-inches. This is a screen increase of 0.4-inches from its predecessor, again being another screen in CES to be increasing in size rather than shrinking.
Despite its larger size, the device is nice and slim and feels great held in the hand. Its predecessor, the James Bond 007 device, aka the Xperia T, had a scalloped back panel and a matte finish. The scalloped back is now gone and the Z also goes back to preferring shine and fingerprints – I think this makes it classier and more modern looking.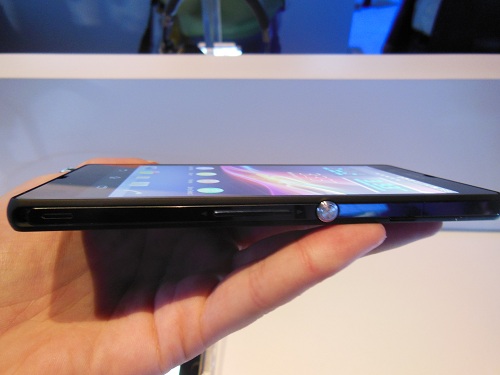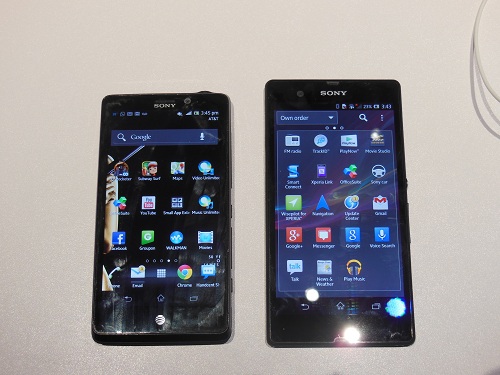 This picture shows the Xperia T on the left and the Xperia Z on the right
The device also features NFC, opening up possibilities of the mobile wallet (once banks get their acts together to enable a service). While you wait for that to happen, you can use the device to eliminate wires while enjoying music, one tap and you can connect to headphones or your home entertainment system.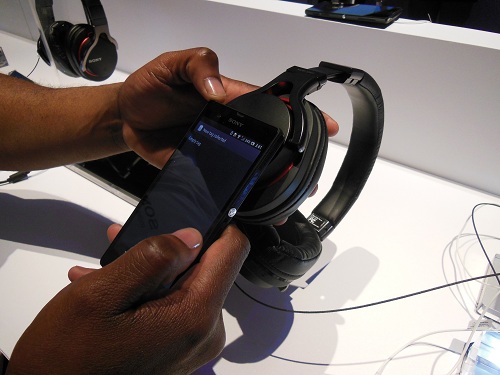 Sony has included a few overlays to the Android 4.1 Jelly Bean operating system that it runs on, such as hold the homescreen button to skip straight to Google, and quick start buttons for apps of your choice, such as notes.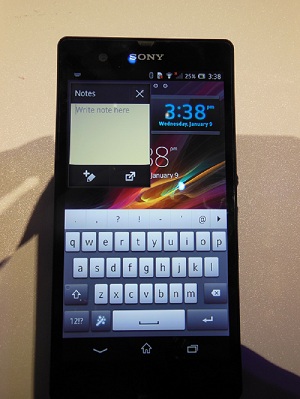 Additionally, Sony has included a nice feature for quickly browsing images from your gallery while still on the homescreen – Timescape allows you to flick through images to easily access the one you need quickly.
This version of Android's operating system comes with Office Suite and I found the keyboard of the Z comfortable to type with.
Sony is hoping to regain some traction in the market, but will this device take attention away from Samsung and Apple? From my short-lived hands on experience, it's nice enough, but I don't think it has as many selling points as the flagship devices of its competitors to make a noise in the market.
The device is also available in as the Xperia ZL with a lower screen resolution and a matte finish on the backing. This is also not water resistant.