Blackberry Playbook OS 2.0 new features - Ready the enterprise for launch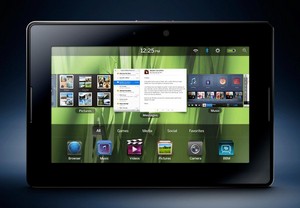 At CES 2012, I met Jonathan Wong, Product Manager for Research In Motion, to talk about the new features of Playbook OS 2.0 which is to be released in early February. Wong says that the new features will "firmly make the Playbook the device companies will choose when deploying a tablet" believing that it is the "best in class core communication experience and social experience for the enterprise".
I questioned why Blackberry targeted the consumer market before the enterprise. Wong insisted that that the plan was to first target the consumer market in order to initially get the product in the consumers minds by making a product that they wanted and to see if it would be something that, through consumerisation, can get larger corporation sot think about deploying a tablet due to demand. Now, with Blackberry Playbook OS 2.0, he insists the tablet is now ready for corporations of all sizes and all needs.
Some of the features are long overdue as the Playbook finally delivers native email, contacts and calendar. The execution is impressive as contacts will have social media and business information integrated. This update also sees Android apps ported to the Playbook with 'thousands ready for launch'. The Android apps will still need to go through an approval process but will definitely help the Playbook's limited app library.
Blackberry Mobile Fusion
Mobile Fusion was unveiled last year and is the platform that corporate contacts and email will be delivered through on the Playbook.
Blackberry Mobile Fusion is a secure mobile device management solution for Playbook, smartphones, iOS and Android.
Companies will be able to set up rules governing employee passwords, apps and other software across smartphones and tablets including the iOS and Android.
The system also allows managers to remotely wipe and lock any devices that go missing or stolen, bringing extra security to mobile devices.
Blackberry Balance
BlackBerry balance allows Playbooks and Blackberry smartphones to allow for users to separate their work life and their personal life securely.
The corporate perimeter will have data security and the personal perimeter will be open.
The user will have two perimeters: personal and corporate, there is no data leakage from the corporate perimeter and no information from the corporate perimeter can be transferred or leaked to the personal perimeter. It will be locked down.
Anything that needs to be managed and protected by the corporation will be resident in the corporate perimeter, therefore any policies will be applied to that perimeter.
Any enterprise applications that need to be deployed will be applied to that perimeter if the corporation chooses to do so but within the personal perimeter the user can do whatever they want, browse any website, download apps or files etc. without any restrictions.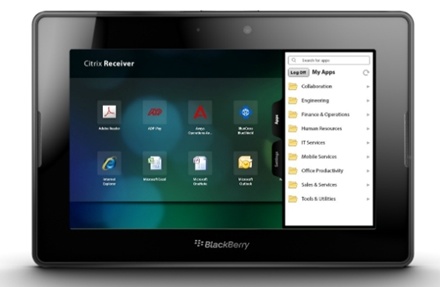 Citrix receiver
Citrix receiver for playbook gives the user secure access to windows desktops and applications with is no data stored on the device. It offers a true multi-tasking experience within the Playbook application as you have access to a full Windows 7 computer and you can have all your normal Windows applications such as Office residing on there.
Remote control
The remote control works through Blackberry bridge. In basic terms, you are able to control your playbook through your Blackberry smartphone device.
For example the Playbook can link to a TV through the HDMI port, or projector or monitor and you can use the smartphone's touchscreen or trackpad to navigate
like using a touchpad or mouse.
This enhances the corporate user experience and makes the Playbook a far more useful device for the enterprise. The obvious use is for presentations or
Citrix receiver in order to fine position navigation instead of zooming to touch. Remote control will support all bezel gestures too.