BREAKING: Nokia to adopt Windows Phone 7 instead of Symbian and MeeGo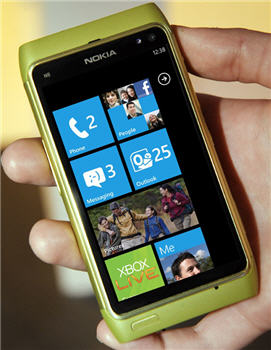 Following the news that Nokia CEO, Stephen Elop, had written an internal memo to all staff saying that Nokia were on a 'burning platform' it should be no surprise that an announcement is to follow.
I have been told by a very reliable source that on Friday Nokia will reveal that they have agreed a deal with Microsoft to develop smartphones for the Windows Phone 7 operating system.
To the right is a picture of how an N8 might look.
This makes a lot of sense as Microsoft could really do with a big-hitter to help them fight Google and Apple and Nokia desperately needs an operating system to replace the forever disappointing Symbian and the Dead Dodo MeeGo OS.
There are no details yet as to how many phones will be released in 2011 or even when they will be released but the fact that Nokia and Microsoft have joined forces should send out a warning to Apple and Google that they mean business.
Nokia will continue to develop budget / non-smartphone handsets for the masses.
This probably means that in the long run Nokia will just become hardware manufacturers as smartphones become the norm.
UPDATE: Turns out Nokia actually spoke to Google first but the negotiations fell through leading them to Microsoft.
See also: