Apple tightens security with iOS 7
From an enterprise perspective Apple appears to be tightening up security and at the same time loosening it in iOS 7.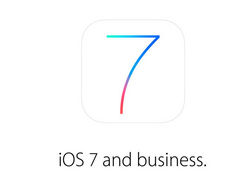 From an enterprise perspective iOS 7 includes a per application VPN and managed applications that have authorisation to open email attachments. In a recent blog post Srinivas Krishnamurti, a VMware senior director on the Horizon Mobile programme says the email lock-down feature in iOS 7 will enable IT to prevent data leakage from and negates the need for a separate email application for corporate use.
the built-in fingerprint scanner has the potential to boost enterprise security – through two-factor authentication using a biometric fingerprint. But the scanner will only authorise iTunes transactions. Potentially, it could be opened up to third party developers such as to secure internet banking, but, as one of my colleagues mentioned, Apple appears to be playing its cards close to its chest. What it probably wants to avoid is another fiasco like what happened when it ditched Google Maps last year.
Now the bad news…Well, AirDrop is one of of the shiny new features in iOS 7, to enable people to share content with friends easily over a peer-to-peer wireless connection. There is clearly a big risk of data leakage here, and there is a very real risk that your wireless network could be spoofed