Apple iPad review: Steve Jobs is a Flashist!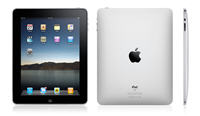 Apple unveiled the iPad on 27 January, and though most people knew it was coming, few were sure of what the need for it was.
The tablet device could be the making or breaking of Apple in the mobile space, with Google announcing Google TV and the latest version of Google's mobile operating system Android "Froyo".
If Apple gets the iPad right, it will have stolen a march once again. Google may have caught up with the iPhone and look to do so in other markets, but the iPad represents something completely different that could change the way we use computers.
Somewhere between an iPhone and a MacBook, with opinion divided between "an over-sized iPhone" and a "revolution". I am about to find out on which side I stand.
brightcove.createExperiences();
Web
"The best browsing experience you've ever had," according to Steve Jobs. So is it? Well, it's pretty close.
I do love using the iPad to browse; the user experience is amazing as you have the full web in your hands.
It is smooth and natural using your fingers compared to a mouse, which just seems wrong after using the iPad.
So why did I find it only "pretty close" to being the best browsing ever?
Because most websites use Flash and Apple is 'Flashist', you will not be able to access parts of websites and even some entire websites.
Will Apple get over itself and support Flash? No. It's backing HTML 5, which looks great too, but Flash is currently the web standard and is used on around 98% of the web.
If this had been resolved then, yes, Steve Jobs would be right, but without Flash the experience is quite dim.
H-Appily
Apps are more engaging on the iPad mainly due to the size of the screen as, for example, the Wired magazine app is a really clever way of reinventing the web/print experience.
Other apps that reinvent the printed word are the Marvel app, which creates a more immersive experience than reading a comic, and the iBook app, which looks like a serious rival to the Kindle.
brightcove.createExperiences();
Other apps worth mentioning are TweetDeck and the thousands of games that will flood the App Store making use of the bigger screen, iPhone compatibility (such as a Scrabble app that allows you to use the iPhone to view your letters with the iPad being used as the board) and, of course, touch.
iPhone apps are blown up to fit the screen and, from the apps that I have seen, the experience is quite good. You can see pixels, but not so much to put you off what you are doing.
Look and feel
Due to all the hype, I expected to hold something that glowed or really made people stop and stare, but I was somewhat disappointed.
Don't get me wrong, it looks good. When the iPhone was released, it really had a stop-and-stare thing about it. A phone with no buttons was truly amazing.
The problem is, we have got used to that and now it just looks like a big iPhone, which isn't appealing anymore. But what do you do with something that is a big touchscreen with a home button?
It's as slick as Apple could have made it, with the cool and curved aluminium back and black bezel around the screen that prevents the touchscreen from being inadvertently activated when handled.
It has a weight to it which, depending on who you ask, can either be reassuring or too heavy. I can't imagine many people holding it for more than 20 minutes without putting it down or resting it on their lap.
It is not painfully heavy at 1.5 pounds, but considering you need to use at least one hand to touch the screen it can be a bit too much for some.


Not me though, my guns mean I can hold it for hours while laughing at the puniness of others.
The screen is a 9.7-inch, 1024 x 768p, capacitive, multitouch LED-backlit beauty. Watching films is a joy and flicking through pictures is great with colours appearing bright and vibrant (it has a digital photo frame feature too – nice touch!) and browsing websites is delightful.
Reading isn't terrible either. I found reading websites and magazine articles to be fine, but I do feel that while the settings can be adjusted, the experience of reading books looks to be quite different.
If I needed to read a book for a number of hours, I think it would be a difficult experience, especially compared to the Kindle's almost paper-like screen.
Software
The iPad's operating system is pretty much exactly the same as the iPhone. You have grids of apps with your favourites down the bottom.
Pretty uninspiring, especially as our eyes have been opened up to things like Android and HTC Sense, which allow widgets to run on your desktop.
Which brings me nicely to the fact that the iPad currently has the handicap of only being able to run one app at a time.
When this was the case with the iPhone, we sort of let it go because of how great the phone and the apps were at the time.
We have grown and Apple hasn't. To spend around £500 on a device that potentially replaces netbooks and being unable to have Twitter, iTunes and e-mail open at the same time seems archaic.
brightcove.createExperiences();
Apple will hopefully rectify this problem with the next iteration of its operating system, but for now, this is a big, big problem. The idea of having one window open at a time seems very 1992.
The idea of no multitasking really pushes me away from the iPad and makes me think that a netbook for half the price would be a better choice.
But this is not a PC (something I keep forgetting).
There are no files, no folders. The way Apple sees the user navigating is quite the opposite of what we are used to on a PC.
On a PC, you open a file that opens the program, but on the iPad you open the app and then the file. It's not a big deal but means if you have hundreds of files then you have to go through the app to find it and literally scroll through lists, which again is quite backward.
These problems tend to fade into the background after a while and it doesn't detract too much from the fact that the iPad, like the iPhone, is a pick-up-and¬-play device that anyone can use, because it is that intuitive.
You don't have to be technically-minded and you don't even need experience of Apple's other products.
The fact that such an advanced piece of technology is so easy to use is credit to Apple's focus on user experience and is genuinely a breath of fresh air compared to some of its rivals.
Connections and battery
There is a reason for the understated look of the iPad. It lacks a lot of things that you would expect to have with a costly device, such as a camera, SD card reader and USB port.
The fact that you need to carry an Apple 30-pin dock connector is ridiculous – USB is a very basic request, as is a camera.
Personally, I don't do video conferencing and I don't expect to use the iPad to take pictures of my friends, but I do expect any device costing more than £100 to have a stills camera at the very least.
Most phones carry a camera and many have mini USB, and it does make me wonder why Apple decided the iPad could do without them.
The battery, a non-removable 25-watt-hour lithium-polymer, has a fantastic 9-10 hours play time on a full charge, which is more than enough for a day's use.

brightcove.createExperiences();
Hardware
The iPad has Apple's custom 1GHz A4 system-on-a-chip. It has 512Mbytes of SDRAM memory; it is really responsive and loads almost anything in no time at all.
Also onboard are 802.11a/b/g/n Wi-Fi, Bluetooth 2.1, a digital compass, an accelerometer, microphone, and ambient light sensor.
The 3G model will have HSDPA data along with an AGPS chip for web browsing without Wi-Fi and GPS tracking respectively.
You will have the choice of a Wi-Fi-only version or Wi-Fi and 3G. The capacities available are 16Gbytes, 32Gbytes, or 64Gbytes.
Dimensions:
Height: 9.56 inches (242.8mm)
Width: 7.47 inches (189.7mm)
Depth: 0.5 inch (13.4mm)
Weight: 1.5 pounds (0.68kg) Wi-Fi model; 1.6 pounds (0.73kg) Wi-Fi + 3G model
Verdict
The iPad really is a revolution. It is completely different. The netbook is a small PC, the iPhone a better mobile phone, but the iPad is something we haven't engaged with before.
There is no doubt the possibilities for the iPad are endless. It can do so much and sits between your computer and your smartphone.
What you do with it is a personal thing. Whether you want an ebook reader and a browser or e-mail, it can do it all to an extent. The problem is that you can do all of these things better with your existing hardware – for example, your computer and iPhone.
So, many positives are offset by the same amount of negatives. How many of those negatives will Apple eradicate with a firmware update is unknown, but for now I would wait at least a generation for the iPad to iron out some of the problems, especially multitasking, and stick to your iPhone and a netbook.
I am also willing to give Apple's rivals a chance to respond and wait to see what they release, especially as I have seen Android-based tablets from China selling for under £100.
Opinion is still divided as some see no point to it and others can't believe they lived without it. That's why, as I have said before, it is a personal thing as to why you would buy an iPad and how you use it.
For me, I think I will resist the temptation for at least a year or so, giving Apple the time to prove I don't need Flash or to find an alternative.
Flash or crash, it's just that simple.