Apple Mac Mini gets an HDMI Upgrade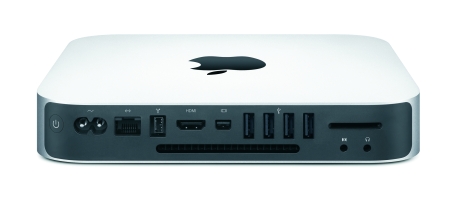 Forget about the iPhone 4, some new Apple hardware worth getting excited about has been announced today – a brand new Mac Mini. A disclaimer first: I'm a Mac Mini fan through and through. I have an early model that I use every day, that runs better now on Snow Leopard than the morning I first unboxed it, back in 2007…
The latest upgrade to the line – ironically not announced at WWDC – is a leap further than previous upgrades. The latest model is smaller than ever. It's just 1.4 inches in height and 7.7 inches square (compared to a previous 2 inch high form factor).
Inside that box there's a relatively modest 2.4 or 2.6GHz Core 2 Duo with at least 2GB of RAM. The new design enables easy access to memory slots though – and the Mini's capable of supporting 8GB of RAM. Unlike Windows on 32 bit platforms, Mac OS X can use all of that.
The best news for Mini fans is the inclusion of an HDMI port, neatly sandwiched alongside an SD card slot, 4 USB ports, Ethernet, Firewire and power ports. With Front Row, iPhoto and iTunes bundled as part of the package, the new Mac Mini is the ideal media centre PC.
And we nearly forgot.
Steam
's on the Mac now. Half Life 2, Portal – they're all as cheap as dust on there. With its integrated Nvidia graphics, the new Mac Mini should handle them more than adequately.
Pricing though? This is the bit where I suck air through my teeth and tut a bit. £649, all in, for the entry level version. That's about a £100 more than the last entry point price. And, look as hard as you like, there's no Blu-Ray version. There are no Macs with Blu-Ray at all. Steve Jobs famously described the format once as a "bag of hurt". Still, if any Apple hardware could really benefit from Blu-Ray, it'd be the Mini. After all – what else is that HDMI port for? HD movies on iTunes? HDTV? Oh, yeah. I guess it could be for those things…
Still – if you want a Mac, if you want a computer you can stick next to the telly, to rent movies, to play games and to listen to music – you won't find a machine more suited to the task than a new Mac Mini. Just dig a little deeper into those pockets.