Amazon may kindle a spark of hope
Kindle 2, Amazon's text reader may soon make its long-awaited début in Europe to compete with Sony's Reader family. The Kindle was first launched as a US-only product in late 2007 but,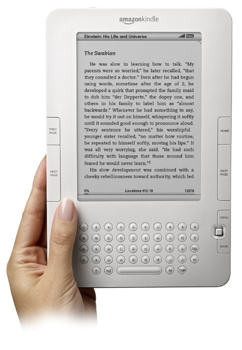 despite its non-availability in Europe,seems to have attracted more than its fair share of attention in the UK press.
Amazon is not committing itself to any marketing plans but the launch of Kindle 2 has kick-started the rumour mill into action. It's possible that there may be some announcement next week while IFA 2009, a technology innovation showcase, is running in Berlin.
The Kindle 2 looks a lot better than the first model and has a larger six inch (152mm) screen. The total unit measures 135mm (5.3in) wide and 203mm (8in) high. It has 2GB of internal memory but only 1.4GB is user accessible and no external memory slots which means that around 1,500 books can be stored, according to Amazon's estimate. It has a 3G wireless module which links to the US Sprint telecoms network using the proprietary Amazon Whispernet protocol. No monthly fees are charged for this service and it is this feature that has contributed to delays in worldwide availability.
It's possible that the larger Kindle DX model may also be released. This has a 9.7 inch (246mm) screen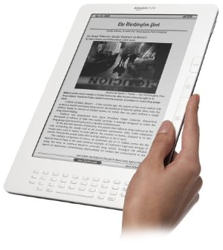 and measures 183mm (7.2in) wide by 264mm (10.4in) high. It also displays PDF files natively. For the standard Kindle PDF is only supported by conversion to Amazon's AZW format. The 3.3GB of user memory allows 3,500 books to be stored, Amazon claims, and battery life is four days per charge.
Both models have a keyboard for annotating texts and support a text-reading voice capability. The DX also has stereo speakers.
Pricing is difficult to estimate because of the uncertainty of how much a European 3G module will affect the cost. In terms of straight dollar to sterling conversion the Kindle would be approximately £180 ($290) and the DX would cost around £300 ($489).
If Amazon goes ahead with the European launch we will do a comparison of the Kindle and Sony's Reader.