A visit to the Sainsbury's digital lab - using technology to solve customer problems
How the digital team at Sainsbury's uses creative thinking and agile methodologies to build software that solves consumer problems.
In September 2015 the Sainsbury's digital lab ran a hackathon, and invited me to come along to pitch an idea to a team of technology specialists for a solution they could build to make my customer experience better.
The brief I was given was to focus on just one thing about my shopping experience I feel could be improved through technology.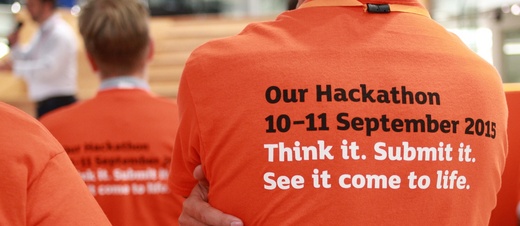 I thought about it for a very long time, and after a couple of days of debating what I needed as a customer, I went into the brainstorming session with just a small inkling of what I wanted and not a lot else.
In the brainstorm were Sainsbury's employees from a mixture of disciplines, including a product manager, a DX delivery manager, a senior architect, a user experience lead and a creative lead.
Alongside them were Isaac Scott, mobile team lead, and product manager Thomas Knorpp who chaired the discussion.
They asked me about my idea, and I said it would be cool if when searching for products on the Sainsbury's online supermarket, you could filter search results based on pre-determined preferences such as vegetarian products, vegan products or gluten free items.
At this point I thought the discussion would be pretty short because I wasn't too sure if my idea would work or need further investigation, but it sparked a lot of interest around the room.
We went through the implications of the functionality, whether it would be based upon customers logging in, how many of the customer's preferences should be saved to refer to later, and whether there should be rules around when the filter should be applied.
There were questions about social media, about what data should be collected and about if these customer preferences should be remembered and also used when interacting with Sainsbury's through other touch points such as its blog website or social media.
After the discussion a team were allocated my idea, dubbed "Project Pink" because of their hackathon t-shirts, to create a workable prototype of my concept as part of the remaining 23 hours of the hackathon.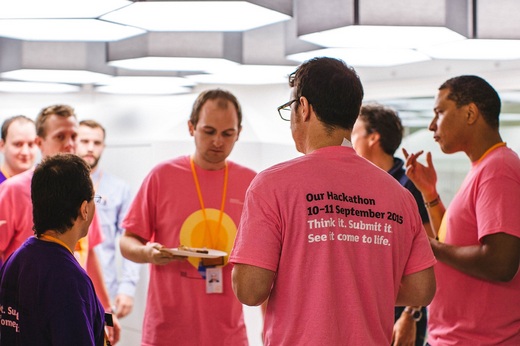 I was brought back to the lab after the hackathon to hear what Project Pink had produced following the brief I gave them.
Isaac Scott was joined by Chris Bernans, senior product owner at Sainsbury's, to explain the process to me and present the prototype.
The teams at the Sainsbury's digital lab usually listen to a problem statement or proposal, which in this case was my brainstorming session.
Then, Bernans tells me, they go through a "process of ideation" to come up with ideas about how to address the proposed solutions.
Stakeholders in projects will decide alongside developers which focus areas of these projects to implement, which are usually the pieces of functionality that "add the most value" to the customer experience.
Bernans and Scott explained that this was the same process that was undertaken at the hackathon but in a condensed amount of time – a mixture of developers and teams members of other disciplines "ran an ideation phase" on my proposal, drawing up a wall of ideas for solutions ranging from "wacky and wonderful" to "practical" to discuss what was possible in the time frame and how they would address it.
The team came up with two main problem statements to tackle: "we want to offer our customers a personalised experience" and "we want our customers to discover food inspiration seamlessly."
To solve these problem statements, the team created a workable concept using a Chrome extension to manipulate the existing Sainsbury's supermarket website to offer a more personalised experience when shopping.
Scott and Bernans demonstrated the different experience to me using two browser windows – one with the extension and one without.
Using the Chrome extension, customers can explain more about the experience they want through a "preference centre" which in the demo included test options for Vegetarian, Vegan and Fairtrade items.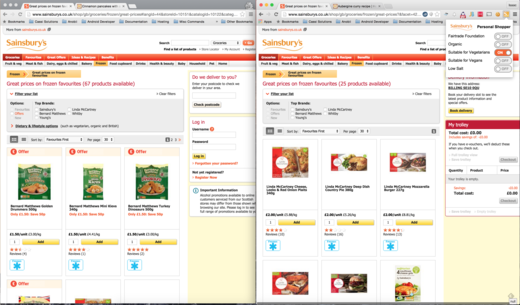 The test example used the preference of only wanting to see Fairtrade products when shopping, and when the keyword phrase "organic Fairtrade coffee" was used, the original browser returned 209 products, whereas the filtered version only returned 47 – ones that matched the preferences.
Then, to tackle the problem statement of seamlessly discovering food inspiration, the team made it easier to find recipes through its own ecosystem and then follow this through to actually buying products.
By creating a "buy button" in the Sainsbury's 'Homemade' website, the team enabled users to add ingredients from a Homemade recipe straight into their shopping cart on the Sainsbury's website, whilst still applying the preferences it has registered from the "preference centre."
The page is scanned, and then a separate pop-up window used to browse ingredients found in a blog post and matched to products that can then be added to the customer's basket on the Sainsbury's supermarket website.
Each product has an individual buy button, or there is an option to add all of the items to the basket.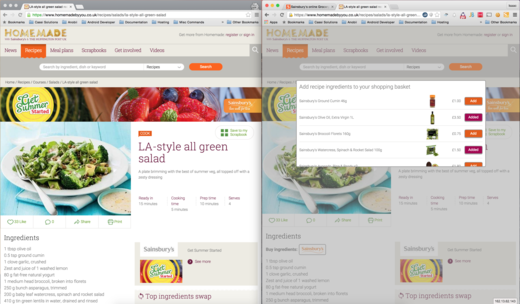 The buttons were made with rounded edges to make them aesthetically pleasing and ensure they fit with the consistent Sainsbury's look and feel.
Currently, both pages need to be open and logged in to allow the functionality to work, but I was told this was due to the hackathon time constraints during development.
The solution was not without its flaws – and at one point the shopping list suggested had items not on the recipe – but the solution it was built in less than 24 hours, so it would take more time to make it fully functional and without error.
This functionality is similar to other websites with integrated shopping lists that use third party products, but Scott and Bernans explain for the purpose of the demonstration it is easier to keep customers within the Sainsbury's ecosystem to allow a consistent customer journey using the preferences collected through the preference centre.
Scott and Bernans highlight that this is core to the Sainsbury's strategy of putting the customer at the heart of its decisions.
"We are wherever and however they want us to be." Bernans said.
I was told in no uncertain terms that what I had been shown was just a concept design produced for the hackathon, so there are no guarantees this will be appearing as a feature on the Sainsbury's website any time soon – but I know that it would certainly make my shopping experience much easier.