You're tucked up in bed. It's been a hard day at work and your brain is buzzing. The wintry wind is howling but you're warm and cosy and in need of some soothing sounds so you put on your earphones and switch your music player on. In the morning, you wake up with earache and Led Zeppelin blasting in your head because you rolled over on your player in the night.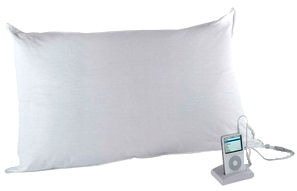 Sound Asleep has the solution. It's a pillow with a built-in speaker and a mini jack that fits most players. The company claims that only you can hear the sounds so, if you sleep with a partner, they can sleep in peace. Apart from relaxation, the sound asleep pillow can be used to dim the effects of tinnitus or lure insomniacs to dreamland. It's educational, too, if you select a good talking book or a language course. You can even plug a radio in if that's your preference.
Because of the speaker, the pillow is not machine washable but can be wiped clean and air dried – which worries me a little bit on health grounds. Also the Health and Safety gods request that you ensure that the connecting cable is tucked out of the way so you don't strangle yourself in the night.
The Sound Asleep pillow is available from several outlets including Asda and Tesco for around £20. Buy four from Sound Asleep and you get a free MP3 player which you can pillow fight the rest of your family for.