3D Printing for work and home
An introduction to home 3D printing options, the Velleman 3D Priner and the makersCAFE
3D printing was a big mover at International CES in Las Vegas this year. Not only were smaller firms all completely owning the space, but Intel announced during its keynote it would be using its Intel RealSense 3D technology to power HP's new Multi Jet Fusion 3D printer.
This printer is designed to use several jets to print in a variety of materials, producing parts that are good not just for rapid prototyping but for immediate functional use.
With reports from Gartner stating startups are holding off buying 3D printing technologies due to the high cost, I decided to look into whether it's easier to have a printer in-house or whether it may be easier to outsource to an external agency.
I got my hands on a self-assembly printer from Rapid Online – the Velleman 3d Printer K8200. This product is meant to act as a starter kit, allowing you to easily print designs at home without having to shell out a ton of money to get your designs made elsewhere. The printer itself is £333.32, and spools of plastic used for printing come in at around £22.
What could be easier?
As it turns out, a lot of things. Setting up this printer took a very long time, and I don't mean building it from scratch, because I had someone else do that.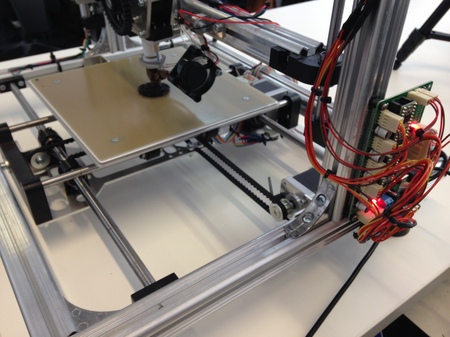 I was under the impression I could download a free pattern online, plug the printer in and begin my journey towards owning endless numbers of plastic knickknacks.
I was wrong.
The Rapid Online website suggests you use free-to-download slicing and 3D printing software Repetier version 0.84 or higher, which again wins on price because it's free.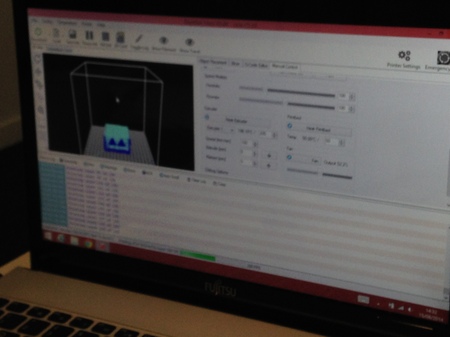 It was simple to download, and pretty easy to use alongside the handy step-by-step guide provided by Rapid Online.
Where the problems started were finding patterns I could easily print out using the printer. There are a large number of settings that need to be very accurate in order to make sure the pattern is properly sliced in a way the printer understands, since this particular printer works by building the plastic pattern line by line.
It didn't matter what I tried – every pattern got at least 80% through a print and then went wild and left me with a big ball of hot plastic mess.
Branded with TT Charcoal & Teal. Related link and Similar Video filmstrip included.
brightcove.createExperiences();
As it turns out, you need at least some level of expert knowledge even to print the simplest of patterns. So as much as the Velleman printer was easy to use and came with very clear instructions, I still couldn't quite make it work for me.
That's when I turned to option two.
I headed down to a 3D printing space in Shoreditch called the makersCAFE, presented by Jaguar Shoes Collective, where you can go to get your 3D designs printed and have a cup of coffee while you wait.
They have the printers, and you pay for the resident 3D printing hotshots to help you with your designs so you can print them.
But it comes at a price, around £2.50 per 15 minutes of printing for a small item, with the price per quarter of an hour decreasing as the size of the printed item gets larger (the prices are on ther Maker's website).
You could even go for the risky option and print without consulting the Makers, but you'll still have to pay if it goes wrong.
This option works well if you want one item printed or need help with your ideas, concepts and designs, and was definitely better for someone with as little patience as me.
As founder Soner Ozenc explained to me, this is exactly the solution 3D printing was meant to provide, and is hardly ever the answer to mass production.
Ozenc has a background in engineering and product design, and set up the café to change the face of manufacturing by giving 3D printing a physical face-to-face presence.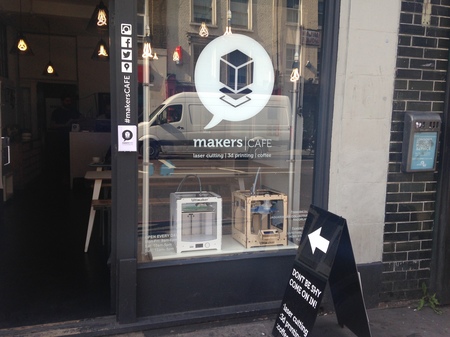 He hopes to use the café of expand on his online RazorLAB business which offers automated assistance for your laser cutting and engraving needs.
This makes the business scalable – it's online and offline – and people and come to the café to intro to the tech, then carry on using the service online once they feel confident with the brand and their own designs.
Or you can just grab a coffee and watch others do the hard work.