A big day for the National Identity Scheme
Home Secretary Jacqui Smith has just published the government's new Delivery Plan for the National Identity Scheme, and HM Treasury has released the long awaited Crosby report. Here's a summary of the key points at a packed press conference.

The conference at Demos was attended by approximately 150 guests from government departments, technology vendors, third sector organisations and even consumer and civil liberties groups such as Liberty and the NCC. The Home Secretary's speech, which lasted for 30 minutes, was lucid, well delivered and blessedly free of the aggressive rhetoric used by some of her predecessors. Interestingly, the language she used was also much softer; I wish I'd counted the number of times she used the words 'trust' and 'confidence', since these are clearly core themes at IPS these days.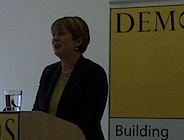 Acknowledging the need to offer 'privacy, security and usability,' she applauded the 'welcome and compelling recommendations' of Sir James Crosby's report. This document has finally seen the light of day, although I've yet to have a chance to read it. She also made reference to the Home Office's latest Public Attitudes Analysis, which claims that the ID Cards scheme has 60% public support even in light of the recent run of data loss incidents.
The key points made by the Home Secretary are as follow:
ID Cards will be issued to foreign nationals from 2008;
The first cards will be issued to UK citizens in 2009. These will include air-side workers at airports, of whom there are 200,000 who will have their contract of employment made conditional upon holding an ID card, and some Critical National Infrastructure workers, such as power station employees or Olympic building site workers;
There will also be a voluntary scheme for individuals who require vetting to sign up for ID cards, with an anticipated reduction of time for CRB checks from 4 weeks to 4 days;
Young people will be able to voluntarily apply for an ID card from 2010 onwards;
All new passports will be enrolled in the NIR from 2009 onwards;
Full rollout of the scheme by 2017, although there will be no compulsion to apply for a dedicated ID card (which seems a little irrelevant when it's the central register that really matters).
The Home Secretary also discussed costs, and anticipated that by next year the programme will have saved £1bn from the anticipated £5.4bn budget. The cards themselves are expected to cost each citizen £30.
The question session raised some very interesting points, although some of the answers were a little less direct than one might have hoped: in particular, we're still unclear about whether an ID card will be considered a 'gold standard' of identification for the financial services industry's 'Know Your Customer' procedures. This seems a little odd, since the government is touting ID cards as the most trusted system available. Let's see what the BBA says about that.
There were two points that particularly struck me:
some discrepancies in the speech about the use of biometrics, namely that fingerprints are the preferred way forward. This seems contrary to other comments from IPS, but I suspect that the actual confusion is between use of fingerprints at time of enrolment, and later for authentication;
we once again heard the statement "none of the database will be online". That's a bit odd – how are we going to communicate with the database, using carrier pigeons? Even the Identity Cards Act refers to online verification. Again, I think this is confusion over terminology.
IPS has now published the 2008 Delivery Plan for the NIS, which will make for interesting reading.
One problem that continues to frustrate me is policymakers' use of the wrong words to describe what ID cards will do. The Home Secretary reiterated the need for us to prove who we are, and how the NIS will provide the 'convenience of quick proof of who we are'. For the avoidance of doubt, I very rarely need to prove who I am. I only had to prove who I was once last year when I renewed my mortgage. That's not exactly burdensome for me. However, I need to prove entitlement on a daily basis – entitlement to drive my car, entitlement to park at the station, entitlement to ride on the train and the tube, and so on. At no point there do I have to prove who I am, just that I'm allowed to use the services.
I'm off to brew some really strong coffee and have a proper read of the paperwork, and will be writing again when I've digested it. If you've beaten me to it, then please feel free to comment below!