Work-life balance: don't overlook the role of technology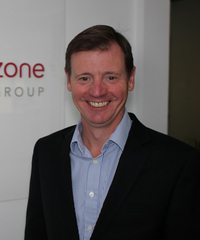 This is a guest post by Steve Gandy, CEO at MeetingZone.
Reading, and Bracknell, hotly followed by Oxford (near MeetingZone HQ) and Edinburgh, are officially the best cities to live and work in the UK – according to the Good Growth for Cities Index published by PwC and think tank Demos recently. It ranked UK cities against 10 criteria including employment, health, income and skills, housing affordability, commuting times and environmental factors. It follows similar research last year from PwC that ranked London (over Berlin, Stockholm, Paris and New York) as one of the best cities of "Opportunity", in a report which examined intellectual capital and innovation; culture, technology readiness and how accessible a city is to the rest of the world.
So what does this say? Well our growing interest in such surveys shows how we're all – employees, HR and management – much more focused on well-being and work-life balance. And that's a good thing. But for me, external factors like location are just part of the equation. The 'best' place to work shouldn't just be about where your office is based, but also about the company you work for – so for example how does management operate and what culture does it creates for employees.
Today's companies rightly scour over all sorts of indicators of work life balance including employees leaving, employee satisfaction surveys and hours worked. But what often gets forgotten by management is the impact of technology in creating that sense of well-being, which in turn can lead to content and productive employees.
Again, PwC provides insight here. It conducted extensive research earlier this year into attitudes amongst 400 SME's ranging from 10 – 1000 employees about deploying Unified Communications (UC). UC brings together a huge range of services, from email to web conferencing and telecoms to sharing data. They found that management was focused, quite understandably on how UC technology would make the organisation successful and improve bottom-lines such as productivity, costs and efficiency savings.
But what they'd overlooked was the more intangible, 'softer' benefits such as the ability to improve the workplace environment and to empower employees. If you look at the table below from PwC, it's clear there's disconnect between how they 'expected' to benefit from UC and the actual 'realised' benefits they received. Across the board the realised benefits exceeded expectations. But while you'd expect productivity, efficiency and even collaboration gains from UC deployments, the really interesting bit was how the deployments impacted employee perceptions of well-being.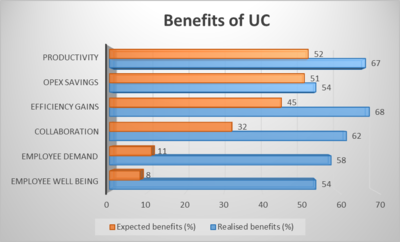 Source: PwC SME Survey, February 2015 (n=400)
Often management make assumptions that employees are armed with the right equipment or that the tools are "good enough" to work with, so are reluctant to rock the boat to invest in new technology. PwC saw that a UC deployment achieved a whopping 54% uplift in employee well-being. That clearly highlights that employee's value being given technology that make their jobs and collaboration easier.
For me the big worry was the marked difference between the 8% well-being benefit that management expected and the realised 54%. This shows how out-of-touch management really are with how employees feel about their jobs and their desire to perform to the best of their ability.
It would seem our senior management need to be more cognisant of their employee's need for 'the right tools for the job', and how it can affect creating the contented, happy and productive employees' they crave.