Why I chose an IT apprenticeship over A Levels
This is a guest blog from Jordan Herbert, Barclays Apprentice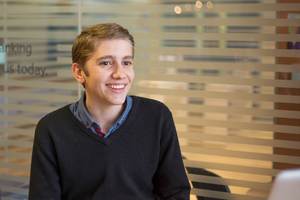 Opening my GCSEs and seeing that all those years of hard work had paid off felt amazing. It also meant that I now had options about what I did next. All of my friends were planning to go to college and then university, but I wasn't sure that was for me.

I already knew that I wanted to work in IT as it was my passion and I knew from school that I was good at it. I was also really keen to start my career and earn some money. IT is a really fast-changing industry and so you need to be able to learn about current systems and adapt to changes. This can be difficult if you're learning away from an environment where it's applied every day.
I'd heard a bit about apprenticeships while I was still in school. They seemed like the perfect route for me because I could still learn and get some more qualifications while also earning a wage and starting a career. After some research I found a scheme at Barclays that sounded really exciting but, when I told my friends they weren't so sure because they didn't know anyone who had done an apprenticeship before.
It was a difficult decision, but I wanted to take a chance. I didn't think I'd even get an interview as it's such a competitive environment. I did, and after a few stages of interviews I was offered a position. It was like getting my GCSE results all over again, I was so excited.
Working in IT is completely different to sitting in a classroom. I'd never sent a professional email before I started and now I manage a whole inbox. I get the chance to work on great projects such as the monthly Service Improvement Trend Report. It highlights trends relating to incidents and services over the last month so we can track and make necessary changes. It's a great responsibility as I can include my own ideas and use my initiative. I'm also now the sole point of contact within the business for the Corporate App store.

My biggest achievement has been managing the frequent conference calls between our global team. They include senior managers from Lithonia, India, Singapore and New York and they used to be a big challenge; my job is to conduct the meeting, make sure the line works, and ensure that everyone understands each other. Juggling work while still studying has been difficult at times, but my line manager and team have been really supportive. It's been really worthwhile, though, to know that I'm getting qualifications as well as invaluable experience of the job.
I was worried about going down a different path from my friends. I genuinely don't feel I'm missing out; in fact it's the opposite. Now, when I am given a piece of work to do I feel as though it has meaning and there's a whole team relying on me and my work. I feel as though I have been given a head start into my career and even better that I'm not in any debt because of it. I also thought I'd given up my chance of a graduation by not going to uni.

I passed my exams last year and as well as being offered a permanent Barclays role, I attended a gradation with all the other Barclays Apprentices from around the business. It was a really proud moment for me, and I can't wait to get started on the next stage of my career.