Oracle's academy helping teachers overcome programming fears
I met with Jane Richardson, director of Oracle Academy EMEA, last week who run me through how the academy works and the recent increase in demand from computer science teachers.

Download this free guide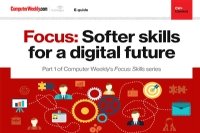 Why softer skills are essential for the workforce of the future
Explore the different types of skills that are needed for technology roles, as well as the increasing importance of soft skills, creativity and diverse thought in developing the technology teams of the future.
Jane said for many teachers coding starts off as something to be feared; however by the end of a training day they realise it's not that bad.
"The teachers then take it to the students who love it and want to learn the next part," she said.
There has always been a struggle between industry and education however Jane said to close the skills gap it is important for education and industry to work together. This is particularly important to enable teachers to overcome the fear of programming for use in the new curriculum.
Oracle invited 100 teachers to take part in its Java Fundamentals Teacher Training, but Jane said the important part is not to prescribe how teachers should use their training: "We might teach 180 hours of Java but teachers may only use 20 of it. We don't prescribe how you should use it."
Oracle's Academy offers training in several formats for computer science teachers wanting to learn programming to shape it to their own curriculum content or to help run after school coding clubs.
Training can be taken in-class through instructor-led sessions over five days, through a mixture of virtual and classroom training or through custom training for those with time constraints.
The academy also offers an Experience Pass for teachers who may already possess knowledge of Java, database design, SQL, or PL/SQL and can opt-out of certain training modules.
Jane is also a contributor to IT Works.