Inspiring the next generation of STEM talent
This is a guest blog by Phil Dunmore, vice president of Cognizant Business Consulting.
The issue of STEM (science, technology, engineering and maths) skills – or lack thereof – among the next generation is never far from the news agenda. It has been suggested by many organisations, including the Confederation of British Industry, that the UK faces a serious shortage of graduates in these subjects and that the consequences are serious enough to threaten our future economic prosperity. Several steps have been taken to try and address this, from the addition of coding to the National Curriculum to a newly revealed, government backed campaign to increase participation in maths, science, and physics A-levels by 50%.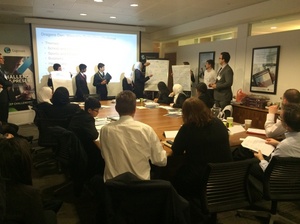 But there is also a vital role here for technology orientated companies. We all have a vested interest in keeping the UK at the forefront of STEM innovation, and in attracting the best talent to come work for us, particularly when research suggests that a lack of relevant careers advice was a major factor in students not pursuing STEM-based further education or jobs. At Cognizant, this is a topic that's close to our hearts and one where we are taking action.
A couple of weeks ago, we held the latest in a series of events where local pupils come in for a day to spend some time with some of our recent graduates and learn more about what a career in STEM looks like at Cognizant. These 'Insight Days' take place regularly in our offices across the world, but on this occasion we welcomed thirty Year 9 students from two secondary schools in Newham and Fulham to our UK headquarters in Paddington. In the morning, the students took part in some interactive games around technology innovation and heard from our graduates about what studying STEM subjects at university is like. Then the afternoon saw me and three senior colleagues act as the 'dragons' in a Dragons' Den style challenge about wearable technology.
This exercise in particular allowed the students to express their creativity and teamwork skills, whilst also learning about how frequently STEM related topics touch our everyday lives. The students were divided into seven teams, with a mix of pupils from each school, and given a vertical market to target, ranging from Sports & Fitness to Transport. They then had just one hour to come up with a new wearable technology solution, thinking about everything from design and functionality to audience and marketing strategy. It might seem familiar to anyone who watched a recent episode of The Apprentice, but with one key difference: the ideas that were generated were actually really quite interesting.
They included a ring that would allow teachers to track the emotions of their students to better understand their engagement and attention during lessons, a smartwatch that would allow the wearer to transmit movements into video games and a smart shoe that would track the wearer's health as well as store energy from walking to recharge a phone. My fellow dragons and I were all seriously impressed with their ideas, which were all based on highly relevant insights and market trends. For example, healthcare in the wearables market is currently an extremely hot topic, and almost every idea presented to us looked to capitalise on that trend. The students also showed very strong collaborative skills, forging relationships with pupils from another school, brainstorming and then presenting their ideas in little more than an hour.
When discussing what had been learnt from the day, the pupils talked about the extent to which they are surrounded by STEM but often do not realise it – whether at school, at home or out with their friends. By showing how subjects normally perceived as 'boring' such as maths or physics relate to students' everyday lives, we can hopefully create a meaningful connection that demonstrates their relevance and drives curiosity as to where they could take the technology next. The other huge benefit of the day was to give the students a taste of the real working environment. As one teacher put it to me: "This has been a truly invaluable experience; it has provided my maths students with a great opportunity to get out of the classroom to understand what exciting opportunities exist. They have all been left highly motivated".
It let them see what life at a company like Cognizant is like and got them to consider, perhaps for the first time, what their careers after finishing education could look like. There are also benefits for us too. It is always very valuable to spend time with young people in this way, exploring the issues that matter to them and hearing first-hand how they view and interact with technology.
One important point to note is that the pursuit of STEM studies does not necessarily need to be entirely at the detriment of the Arts or STEAM (science, technology, engineering, arts and maths). Creativity, lateral thinking and the ability to communicate are crucial skills in progressing through the ranks in an organisation, which is why we support those from the CBI and other bodies who have recently stated that pupils should also be strongly encouraged to learn a language or other creative subject.
It is our hope that initiatives like the Insight Days succeed in putting STEM subjects back on students' agendas. Getting the next generation enthused about STEM, and showing them how much of their everyday life is connected to it, is crucial if we want the best talent to come into the industry and continue to push boundaries in the future. The government has been taking action, but those of us in the industry need to do our part too.