Fishing for future employees at Datacenter Dynamics Converged, London
This is a guest blog from Adelle Desouza, partner marketing manager at Enlogic
It's been an eventful year for us all in the data centre world, but the Enlogic team has been kept busy by exhibiting at a number of high profile data centre conferences across the globe. I personally have followed the circuit around the UK, Republic of Ireland, Singapore, Germany and the Netherlands.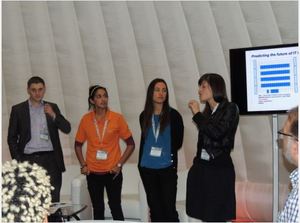 As an advocate for welcoming fresh talent into the field, I am always curious to see how the topic is discussed at these events if at all. I have noticed that the industry is starting to address the issue and do more to engage potential new talent. In fact this year the organisers of November's Datacenter Dynamics Converged conference, in London, turned their hand to orchestrating such a debate.
I am constantly on the look out for opportunities to talk about securing the future of the data centre and was delighted to be invited to participate in a panel discussion. I was joined by other young professionals working in the IT industry, from companies such as Operational Intelligence and Sudlows, to talk about the positive aspects of our careers. The debate was attended not only by industry experts, but students of tech-based subjects from the London area, and it was great to have a voice and a platform from which to speak to them.
A simple way to educate young people about job prospects in the industry is to treat conferences as networking opportunities. In my last blog for Computer Weekly I spoke about having a presence at graduate fairs. But as well as entering their world, there is no reason why you can't bring potential new employees into our world as well. Organising a tour around the various stalls at a conference, and encouraging vendors to speak plainly about the different components of the data centre, is a mutually beneficial conversation for both parties.
As the year draws to a close and conference organisers look ahead, I hope they can continue treating the issue surrounding young talent in our industry as a key theme. Preparations need to be put in place now if young people are to have a role in the survival and development of the data centre.