Apprenticeship - My chosen route
This is a guest blog by Rachel Hodgson, 19, higher apprentice, CFS finance at Fujitsu UK & Ireland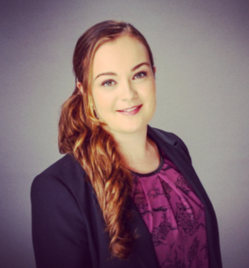 I started my apprenticeship with Fujitsu in September 2013, after completing my A-levels in Accountancy, Maths and Economics in May 2013. I applied to become an apprentice as I wanted to train for a professional qualification through a combination of work and study. I currently work in the CFS Finance department based in Warrington and I'm incredibly happy that I made this choice.
I chose an apprenticeship as I didn't want to wait for three or four years before entering into the world of work as I would have had to do, if I'd have followed the traditional university degree route. I knew a career in accountancy was the route I wanted to follow after having completed work experience for an accountancy firm over the summer, and by completing a level 4 higher apprenticeship with Fujitsu, I would have the equivalent qualifications to somebody who had completed an accountancy degree, but I would be debt-free. The combination of the aforementioned factors led me to decide to do an apprenticeship with Fujitsu.
Thanks to my apprenticeship, I've gained a lot of useful, transferable skills that I wouldn't have learnt if I'd have gone to university. One particular skill set that I feel I have really developed is team work. Now that I'm working at Fujitsu, I get to learn a lot about working with different people, of all ages, and get to experience a professional working environment. At university, you only get to work with people who are the same age as you but in an apprenticeship, you get to learn from the experience and the knowledge of the senior people at the company that you get to interact with, which is really beneficial for your career.
What's even better is the fact that I can develop my professional qualifications whist working. I'm currently studying for a CIMA certificate alongside my apprenticeship and I want to carry on doing that and see where it takes me.
If I had to make the choice between going to university and becoming an apprentice again, I would definitely choose an apprenticeship. I don't think people should follow the norm – it's important to be yourself and know what you want to get out of your career. Personally, I feel like I now have a massive advantage over peers who have gone to university, as more and more employers now look at your work experience before they offer you a job.
If you have just graduated from university, it is more than likely you will have no or very little work experience, business experience or life experience, so even if your college pushes you to do UCAS, apprenticeships are really worth considering. A lot of people feel there is a general consensus that going to university should be the next step after college and apprenticeships almost seem to still have that second-hand stigma, but it really paid off for me to stand against the norm and apply for this apprenticeship.
Ultimately, I have experience working for a global ICT company and in addition, I will soon get my certification and in the meantime I have learnt useful skills that can be easily transferred into any other job; simply put, I wouldn't have it any other way.