In this guest blog post, Naomi Hewitt, director of HR, The NET-A-PORTER GROUP, writes about why it is time to teach tech at schools.
The founder of a new after school coding club for 10-11 year olds recently claimed that http://www.rec.uk.com/press/news/2080"We're teaching our kids to be secretaries rather than programmers." I can understand her concerns as they echo those of the Corporate IT Forum's Education and Skills Commission, which recently called for ICT education to be replaced with "IT in business" lessons. I do believe that more could be done in schools and universities to encourage and inspire young people in learning about technology and the essential role it plays in business today.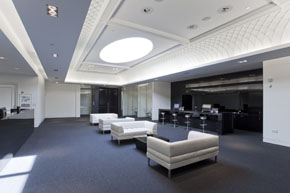 In the UK specifically there seems to be a disconnect between Academia and 'the real world' with many of the computer-related courses on offer bearing little relevance to the exciting technology roles available in the business world. This may be symptomatic of a legacy of both free higher education and the pursuit of traditional liberal arts subjects, but it is certainly not helping to make the transition to the job market any smoother for young people.
As a fast growing ecommerce business, The NET-A-PORTER GROUP, whose brands include NET-A-PORTER, THE OUTNET and MR PORTER, is as much a technology as a fashion company. Recent new technology launches include the development of new shopping platforms for tablet, mobile and TV, NET-A-PORTER LIVE, an interactive shopping experience and an augmented reality shopping app. To ensure we continue to stay at the forefront of technical development we require cutting-edge tech talent and find ourselves competing fiercely for the UK's top notch developers and programmers, who are very much in demand. To address this, we recently launched an e-commerce academy, training tech-savvy graduates in vital programming skills alongside developing a commercial awareness with a view to further enhancing our in-house team, who continue to create and develop innovative ideas to benefit our business and customers.
Initiatives such as our graduate technology scheme are a direct result of the UK's broader digital skills gap. Earlier this month figures were released from the Recruitment and Employment Confederation (REC). showing that while the job market shrinks and graduate opportunities decrease, permanent IT staff placements have increased for the third consecutive month.
This reflects the fact that online and mobile are two of the fastest growing sectors – the interest in London's Silicon Roundabout, the Government's training to help "Web Fuelled" businesses and the advent of 4G promising lightning fast mobile broadband are just some of the indicators of the burgeoning potential of this market and the increasing demand for digital talent in the UK. As an example of this, our own business has grown from 0 to over 2000 employees over the last twelve years. And we're not the only ones on the lookout for digital talent. There are many companies now which have digital elements at the heart of their organisation, beyond businesses traditionally associated with business technology.
It's also worth noting that often those who go into young, modern, digital organisations will have more opportunity to inform its direction and make their mark than they would if they worked in a traditional back office IT role. Without inspiring young people to recognise these growing opportunities we may not meet the demand for digital talent.
That's why businesses and educational establishments need to take responsibility for showing young people that careers in technology such as web development and design can be commercially relevant, exciting and incredibly rewarding and adapt their courses appropriately.
As the cost of higher education continues to rise, so too will the expectation for concrete outputs from the education system. Other countries are already addressing this. US colleges, for instance, have a much greater appetite for partnering with employers to tailor their academic programmes to get students 'job ready' and look to lure students based on the percentage of alumni that matriculate into jobs with Fortune 500 companies. Britain must follow suit, and fast. If that means updating some of the processes and techniques young people are learning in school and university in favour of new, more exciting and empowering digital activities then we're all for it.