A focus on STEM careers is for life, not just Apprenticeship Week
This is a guest blog by Jessica Batts, Nuclear Safety Engineer, EDF Energy
I joined EDF Energy straight from 6th Form three years ago to work as a nuclear safety engineer, which essentially means I help ensure the nuclear reactors at Hinkley Point B Power Station are running safely and efficiently. People are often quite surprised when I tell them I work in the nuclear industry. Perhaps because they still associate scientists with the 'nerdy' stereotype, or perhaps because the term 'nuclear' is still something that people don't know enough about.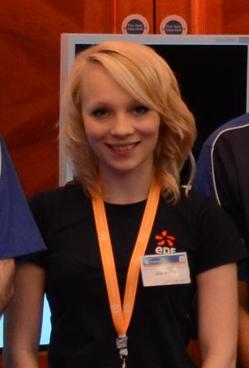 However, I've always had a fascination with science and finding out why and how things do what they do. This curiosity made a career in Science, Technology, Engineering and Mathematics (STEM) a really great match and an exciting opportunity for me. Since working with EDF Energy I've not only been able to develop my passion for science and engineering, but have also been given the opportunity to take a three year Foundation Degree in Nuclear Engineering, enabling me to continue gaining qualifications whilst working.
Unfortunately this isn't the case for many people. The news recently reported that by the time they finish primary school as many as 83 per cent of children have already discounted a career in science. This figure is really worrying; there are so many exciting career prospects for young people related to STEM subjects and we are facing a huge skills gap in the UK. Something needs to be done to help make science and engineering exciting to the young generation.
The UK is the world's sixth largest nation in terms of manufacturing, with engineering providing an annual turnover of around £800 billion. We also produce 10 per cent of the world's top scientific research – making it crucial that young people are engaged and educated around the STEM career opportunities out there. The reality is that we are going to need expert engineers and smart scientists in the future.
One of the reasons I chose to do an apprenticeship rather than go to university is so I could work and get a qualification at the same time. This was very attractive to me, especially given how many university graduates are finding it difficult to get work following their degree. I don't see a vocational qualification as any less vital than a university qualification, if anything it's more so as it give a practical application to some of the skills learnt in the classroom. In addition, several members of EDF Energy's executive team actually started within the company as apprentices.
STEM is a huge part of everyone's lives, whether they embrace it or not. It shapes the world around us; it is our past, present and most importantly our future. We therefore need to engage and excite young people about the opportunities available in these fields in order to maintain a sustainable future.