SITA Labs trying out mixed reality technology for airline industry
I must admit I have found the application of virtual reality to real life situations in the enterprise space difficult to imagine.
It all seems to be around gaming or at least gamification and fully virtual reality is, for me at least, difficult to put into use beyond entertainment.
But reality or virtual reality doesn't have to be a binary choice. SITA, an IT supplier focused on air transport is applying mixed reality technology to the air travel industry.
Wearing computers on their heads, users can blend reality with holograms using a drop down visor.
I had a conversation with Kevin O'Sullivan, who is lead engineer at SITA Lab. He told me how up to now the company has been doing a lot of work around wearable tech for the air transport sector. This includes trying out things like giving Google Glass to agents to scan boarding passes and automating the process as a result, and providing connected watches to airport staff so they can access information on the move.
These he said are experiments to "understand the impact of tech and whether it is useful." You can see these small improvements put together could add up to a big difference in a busy airport.
But nothing compared to what mixed reality could do. Yes not virtual reality or reality but a mix of the two. Sounds crazy but it could have some huge benefits as experiments in the air travel industry show.
The technology SITA is working with is HoloLens. It runs on Windows 10 and enables users to place holograms in their field of vison and interact with them.
"HoloLens, is a new angle on mixed realities," O'Sullivan told me. Virtual reality in comparison closes you off and you can't see anything else. So while you are immersed in virtual reality you can't interact in the real world. And with augmented reality you are looking through a device screen so you are not immersed in it.
O'Sullivan said: "HoloLens recognises your surroundings and detects walls, floors and furniture."
"When you are looking through the lens you can see everything in the real world and can add 3D object in the room," he told me.
You can start an application, for example the Microsoft browser and you can place it on the wall. You can move around the office placing different applications on different walls. Users can use different gestures to interact with the applications such as dragging things up and down and can also interact with them by voice.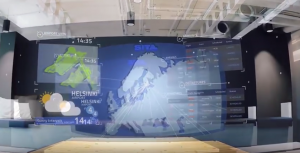 SITA Lab has worked with Fracture Reality – a mixed reality developer – to create a functional, interactive visualisation, using real data, showing how Helsinki Airport's operational control centre in a mixed reality environment. Fracture Reality used Microsoft HoloLens to deliver the 3D application, content and user interface .
O'Sullivan gave another example of an airline that had a 3D model of an aircraft engine which could be placed in the middle of the office. "You could walk all the way around it and examine it." Instead of having to take trainee engineers to a stripped down aircraft to train you can do it virtually
"This is similar to computer based training but instead of looking at it on a 2D screen you have got a 3D model which you can walk around," he added.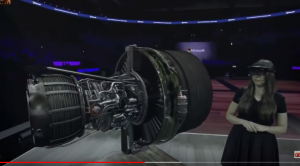 Watch it in action here with this video of HoloLens mixed reality. Enterprise and developer editions of HoloLens are available.
O'Sullivan said it is early stages for the technology its uses and where it will "find its sweet spots" are still to be determined
He gave an example of where they are testing out the technology. "If you imagine an airport control room with a bank of screens pulling in data from all over the airport and monitored in one room. This is where we are today and it requires a big digital infrastructure in the airport. We are now looking to see if we can build a replica in a virtual 3D model and project that anywhere we want through HoloLens."
So the airport command centre could be in your living room.
Helsinki airport has already carried out tests of the technology, said O'Sullivan. The pilot saw them build a 3D virtual model of the whole airport and made a virtual copy of the control room dashboard. "This is to find out if you can you use it as a replacement of the existing bank of screens in the operations or whether you can interact with it. We also want to know if it bring anything new, and what are the drawbacks."
O'Sullivan said the trial went well in the limited pilot that was run.
He said there is a lot more interest than he had expected and next year SITA plans to start putting some of these ideas into production. It is currently looking at how it can get people interacting in the virtual world.
For example if a person walks around the airport and sees overcrowding, the staff in the control room would also see it and could open another gate via an app in the digital model.