Cash surviving fintech attack and thriving worldwide apart from in Sweden and Norway
The use of cash continues to increase in the world's economies apart from in the Nordic countries Norway and Sweden, according to a study by Federal Reserve Bank of San Francisco.
The ability to make small, quick payments to people and businesses such as retailers through contactless technology is reducing the need for cash. A recent Visa survey revealed that 59% of British millennials have made a peer-to-peer payment to somebody on their phone. This is on top of exploding use of contactless card and phone payments increasingly used to pay for low cost items.
Cash is reducing then, or so we thought.
I hardly ever have cash on me these days. I use my contactless bank card all the time. It also doubles up as my travel card, but I must admit I often really need cash for small unexpected things and it and have to go searching for a cash machine. Some people of course rely on cash and I am sure it will be a long time before fintech can fill all the gaps. And according to the Federal Reserve Bank of San Francisco study it seems fintech has some way to go before it kills cash off.
The study looked at 42 economies that account for 75% of global GDP.
Apart from Sweden and Norway, where the amount of currency in circulation (used as a measure of cash) has declined, in the other 40 economies it has either matched GDP growth or exceeded it.
Nearly two years ago I commissioned a journalist in the Nordic region to write an article about Sweden and its relationship with cash. Sweden is often cited as being the nation that might be first to go cashless. Swedish buses, for example, have not accepted cash for years, retailers have the right to refuse cash payments and even homeless street vendors take cards thanks to new digital payment systems. The Nordic region is also a hotbed for tech startups and citizens seem more open to trying new things than other economies. In the article Niklas Arvidsson, associate professor at Stockholm's Royal Institute of Technology said: "I think [Sweden] could have a cash-free society [where cash plays a marginal role] in something like 10 years from now, maybe even sooner."
Back to the Federal Reserve Bank of San Francisco study. Here is a graphic from the report showing the growth or decline in cash as a proportion of GDP in the 42 countries that make up 75% of Global GDP. The Green countries are those where the use of cash is growing faster or matching GDP growth and the two red countries, Norway and Sweden, where cash is reducing. The grey countries weren't included.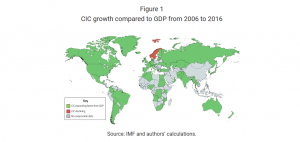 "While Norway has been moving away from cash, Sweden has garnered attention as the poster child of cashless countries. Since the 1960s, Swedish banks have encouraged digital bank transfers, charged for checks, and invested heavily in card payment systems. The banking system collaborated to create an automated clearing house, Bankgirot, and to launch a popular mobile payments app, Swish. Sweden also has a cultural stigma against cash, with some Swedes associating the payment method with crime. The 2009 Money Laundering and Terrorist Financing Prevention Act required police reports be filed for large cash transactions, and high-profile cash robberies have contributed to public wariness of cash," said the study report.
In the UK the British Retail Consortium recently released a study that found that cash is no longer the most used payment method at retailers, with debit card payments taking the lead.
Payment providers are encouraging people to go cashless. For example in the US Visa is offering 50 small US businesses a share of a $500,000 pot of money if they go totally cashless. The Visa Cashless Challenge is aimed at restaurants, cafés and food truck owners to describe what cashless means for them, their employees and customers. Visa will award up to $500,000 to 50 eligible US-based small business food service owners who commit to joining the 100% cashless quest.