Much to the frequent disregard of the millennial generation, technology has enabled a number of daily processes to become autonomous and instantaneous.
Perhaps the most frequent of these processes, that often goes unnoticed, is the collection of data.
Data is collected every day in every which way, and many of those using the London Underground will have their commute data tracked from start to finish so Transport for London can control footfall, train frequencies and avoid station overcrowding.
But data collection has existed for a long time, and in some cases pre-dates the capacity to automatically capture data through the use of technology.
Here we see a picture displayed as part of the PwC sponsored 'Our Lives in Data' exhibit at the London Science Museum.
These ladies are counting paper bus tickets – it took them three days to collect four million tickets and a further six months to manually sorting through each slip and determine where passengers were travelling from and to in a bid to better understand the daily commute.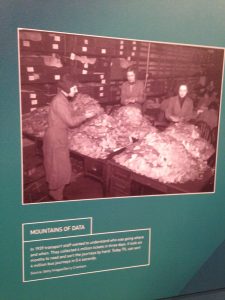 Give us an Oyster card any day.