Let's take back control, unless we have to get up
Mobile phone recycling comparison site Recyclezone has put together the findings of a survey that asked which household tasks Brits were most keen to palm off on smart technology, and you don't need to ask us twice to play Vernon Kay with the results.
The survey said a laundry folding robot (32%) is the fifth most popular wish, which is where we pirouette towards our imaginary All-Star Family Fortunes studio audience in disbelief that nobody can fold their own underwear, before alienating them by shouting, "Just hire a maid!"
In at number four are kitchen appliances that connect to a voice assistant (34%). We feel Vernon would breeze past this one due to his limited ability to come up with a funny joke about efficient toasters on the spot – or, in our case, just before lunch.
Third place is occupied by a fridge that suggests recipes based on [we pause to bury our head in our hands – the audience are back onside and can't breathe for laughter at this point] what's already in it (37%). "We keep insulin for the diabetic cat in ours," we quip in our fake Bolton accent. "You wouldn't want that in your omelette!"
The second-highest answer is a smart vacuum cleaner (40%), which should obviously have come first ahead of a smart thermostat (46%), something that's just objectively very easy to keep on top of yourself. What a stupid country this is. [Audience boos.]
Content Continues Below

Download this free guide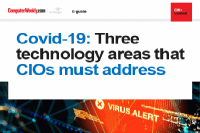 Covid-19: Three technology areas that CIOs must address
CIOs will need to consider the IT measures that will be needed to support their organisations as the government ramps up its response to the coronavirus. Click below to download now!