It's a rare morning when Downtime does not need a large shot of caffeine to get us off to a productive start, but one coffee shop in Taiwan seems to have taken the idea of your own personalised Latte a step too far.
Let's Cafe, which operates coffee kiosks in the FamilyMart chain of convenience shops in the country, have devised a system where a customer can take a selfie on their smartphone and upload it to the machine, which then recreates the image on the coffee foam in brown, edible powder.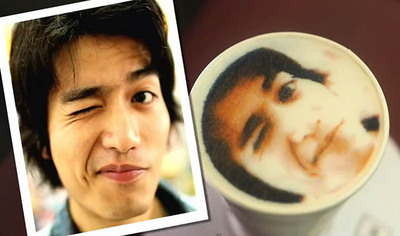 Apart from being perplexed at who on Earth is narcissistic enough to want to sip their own face from their morning Java, Downtime does recognise this as an excellent solution to the chaps at our local, generic coffee shop regularly misspelling our name, apparently mistaking us for an abbey from a popular ITV period drama.