How HP Enterprise fell victim to the Streisand Effect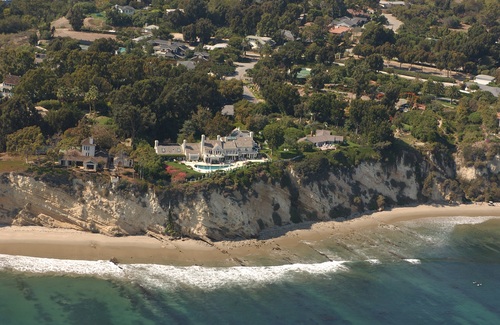 This is a picture of Barbra Streisand's house in Malibu, California. Lovely, isn't it? It was taken by a photographer called Kenneth Adelman, and about 12 years ago it became briefly famous when the entertainer took exception to it being published on the internet as part of the California Coastal Records Project, and took out a $50m lawsuit to try to suppress it.
Unfortunately for Barbra, the internet works in mysterious ways, and in seeking to have the picture removed from the world wide web, she merely succeeded in drawing more attention to it than ever before. The picture went around the world. Actually, according to Wikipedia, before she filed her lawsuit, it had been downloaded just six times, twice by her lawyer. In the following month, it was downloaded 420,000 times.
Nicknamed the Streisand Effect by TechDirt's Mike Masnick in 2005, the phenomenon has been widely observed at work in the online world, with victims including Beyonce, former motor racing boss Max Mosley, and Pippa Middleton. In these days of articles with titles such as '20 Photos Of The Editor Singing Spandau Ballet Songs At Karaoke That He Doesn't Want You To See' it is easier to fall victim to the Streisand Effect than ever.
Now, here at Computer Weekly we take a dim view of many of the trends in modern tech company naming. Give your firm a name that's all in capital letters, and you may find that our talented production team gives you a subtle re-brand in the finished article.
Unfortunately this sort of tomfoolery is becoming increasingly common these days, so we have to say, we weren't particularly surprised when the following 'guidance' popped into our inbox on Friday, ahead of the much talked-about split of HP into two new companies:
"In advance of the two companies trading as separate companies on the NYSE starting Monday, Nov. 2, I wanted to share accurate information about how each company should be referenced moving forward.
"Hewlett Packard Enterprise should only be referenced as "Hewlett Packard Enterprise" or abbreviated as "HPE". Please note: It should NOT be referenced as "HP Enterprise".
HP Inc. should only be referenced as "HP Inc." Please note: It should NOT be abbreviated in any way."
Sorry? What was that?
Okay. I think I get it. HP Enterprise definitely never wants us to call it HP Enterprise. Was that it? If HP Enterprise is off the table, then we shouldn't call it HP Enterprise under any circumstances.
It's funny, though, because I'm sure that up to now only about six people, probably all of them working at HP Enterprise, had really given the idea of using the term HP Enterprise a second thought. We certainly hadn't, but now all we and every other technology journalist who got that note can think about is when we can next find a way to call HP Enterprise HP Enterprise.
Well. Okay. We'll be good.
But we can't necessarily say the same for our sub-editors. Their ways are shrouded in mystery.