Bruce Schneier gets dolled up
Now you can own a life-like doll of security technologist and author, Bruce Schneier, from the thatsmyface.com website. The site says if you want to know how security really works, people turn to Schneier. If you want to know what he's really like, you can buy the 12" action figure body with pre-fitted clothes. Bruce comes in three flavours – straight Schneier, Schneier the cyborg and Schneier with detachable pony tail.

Download this free guide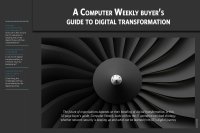 Computer Weekly's buyer's guide to digital transformation
Download this 14 page buyer's guide to discover how the IT operation can lead strategy, whether network security is keeping up and what can be learned from GE's digital journey.