13-mile tribute for Steve Jobs
Joseph Tame, a media producer and, you'd assume, big Apple fan, paid tribute to former CEO Steve Jobs by running a half marathon in the shape of Apple's world famous logo.
By sticking to a very specific 13-mile route through the streets of Tokyo, Tame was able to recreate the Apple logo using two iPhones and the Runkeeper app. Two hours well spent.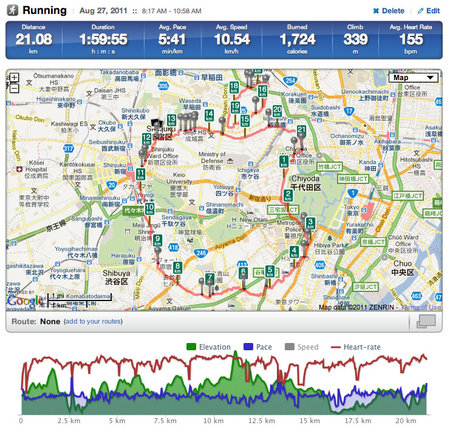 (Credit: Screenshot by Boonsri Dickinson/CNET)
Tame began his route near the Imperial Palace, jogged through Roppongi, and continued around Shinjuku to Kagurazaka. The Runkeeper app then used the iPhones GPS to create the piece of "trail art".
This is not the first time Tame, a keen marathon runner, has re-created a logo using GPS. He has previously mapped out a nine-mile Twitter bird.