Check Google's offices out in this blog post. They do look pretty cool.
Do you think the style of an office says a lot about a company?
Well if you check out our offices at RBI in Sutton, Surrey, you may be tempted to think of Google's offices as "new media" versus ours as "old media"…..but that's hardly surprising as we have been producing magazines for over 100 years in some cases.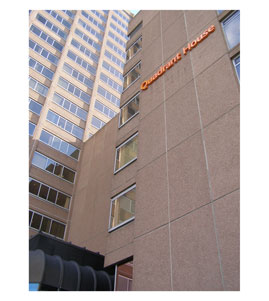 You could also say that our offices look sturdy, trustworthy, solid, all of which are good honest values and ones to be proud of.
That's not to say that you can't change either your values, your culture or your office for that matter. RBI is currently being sold from its parent company Reed Elsevier and I expect our new owners will be very focused online.
I guess that could mean we get new offices but then how much does an office really say about a company?
If you read the comments from the blog post above then the look and image of Google's offices does mean something to potential employees – many of the comments remark on it looking like a cool place to work etc. Anybody in HR will tell you that things like benefits and work place facilities are just environmental factors that won't actually stop an employee from leaving to further their career. So it's the job and job satisfaction that counts rather than the office environment you work in.
Let me know your thoughts and send in images of your office, so we can get the debate going about what an office says about your company.