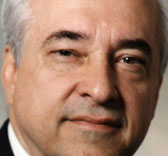 Cliff Saran's article and podcast interview with General Motors CIO Ralph Syzgenda is very interesting and also very useful for aspiring CIOs – take a look at his top tips below or read the interview in full on ComputerWeekly.
Or if you prefer you can download or listen to the podcast interview of Ralph Syzgenda, glodal CIO of General Motors in full.
Ralph Szygenda's 10 steps for effective CIOs

1. Employ innovative people. If you don't have people who can innovate you won't succeed.

2. Understand where the business processes are today

3. Use IT to standardise, simplify and collaborate

4. Know your competitors

5. Understand business processes that exist outside your industry

6. Make sure you can take into account what is happening in the business environment

7. Know what business improvement you need to avoid the risk of IT companies telling you how to run your business

8. Take risks and make quick decisions

9. Allow debate

10. Measure the business results.