Today's changes to ComputerWeekly.com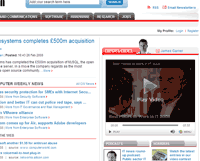 When we relaunched ComputerWeekly.com we promised we would look to continually improve the site for our readers, putting you, the user, first. No more standing still: we've gone agile, enabling us to keep rolling out a series of improvements over the course of each year so that the site constantly evolves, improving your experience.
Some of these improvements will be behind the scenes stuff that may have no visual impact, but some – like today's – will mean that if you're used the site you'll really notice the changes.
So today you'll see changes to the homepage and also to the article page – both of which I hope will improve your experience of ComputerWeekly.com.

Firstly on the homepage – we have added a change to Editor's Choice, which will allow us to showcase our latest video content and play it directly from the homepage. The first video to appear will cover last Friday's Best Places to Work in IT Awards.
Next, we've changed our "most popular" box to show you even more of what the industry is reading right now. The new slot lists at one glance the top most read storie, most viewed videos, most listened to podcasts, and latest blogs from ComputerWeekly.com. Just scroll about halfway down the homepage to see the most read charts in full and do email us to tell us what you think of the change!
Meanwhile, at article level we've added two new ways for you to quickly find further content on the subjects that matter to you.
At the top of each article, alongside the author and date details, you'll see a list of "Topics". Following a topic link will take you to a listing of other content on that broad subject area.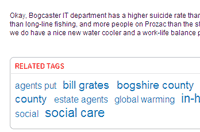 For more tightly refined suggestions, go to the tag cloud at the bottom of the article. Following the links there will take you to content related to specific keywords from the article you've been reading. And for anyone not already used to tag clouds from other sites, it's worth noting that the bigger the tag, the more results you'll get when you follow the link.
So, that's the main changes in today's shake-up. Do let us know what you think!