Time to put on your Friday face?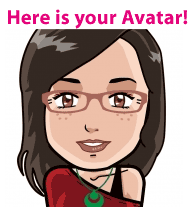 Rebecca says: I've always wanted to be drawn cartoon-style… And now, thanks to Face Your Manga, I have my wish. Well, almost. The options are a little limited but it's still a pretty quick and amusing way to create yourself an avatar icon – if only it were that quick and easy to 'improve' your appearance in real life. Sadly, I have to confess, the online Simpsons avatar creator came up with a rather more accurate, if less flattering, likeness when I tried that a while back!
All things considered, I think I'll stick to using my staff photo in work-related applications. It just seems more, well, truthful. But I'd love to know what our readers think about the use of icons and avatars as part of creating a personal presence on the web, particularly when it comes to any applications that you use with your 'business' hat on.
Do you use a real, identifiable photograph? Or do you prefer to preserve anonymity by leaving images blank on your online profiles? Would you respect the knowledge of someone using a cartoon-style avatar? What about if they used a picture of their cat? If you went to a meeting in Second Life, and your colleague turned up without clothes – or as a furry – would you think less of them?
Basically, what are the risks and benefits to reputation – individual and corporate – of using avatars in business…?