PayPal's security features take some beating
This evening I have been trying to get a payment from an eBay sale through PayPal. Unfortunately for me, I have always been more of an eBay buyer than seller, keener to find a bargain, than I am to sell off my useless hoarded wares.

Download this free guide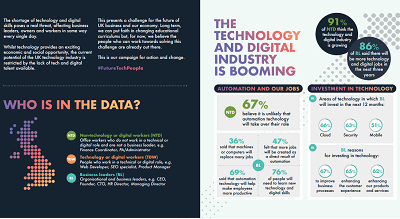 Infographic: How to future-proof UK technology
There is no doubt that the technology industry is booming right now, bringing with it exciting social and economic opportunities. However, there is a real fear that the UK industry may be stunted due to the lack of talent available. This e-guide helps to break down the future fears and expectations of dozens of business leaders and tech workers.
So having made a sale using PayPal I was confronted with the uncomfortable situation of not being able to remember two out of the three security criteria I had input when I signed up to its services. Hence I couldn't recieve the cash or find the buyer's address to send the goods to.

In the three years since I had created my account, I had changed address and telephone number and had changed debit card. Remembering my old telephone number proved (worryingly) elusive and I couldn't recover my old debit card number anywhere.
The PayPal system correctly blocked me out and I was forced to call their customer services department to initiate a password reset. In the end, after a fair bit of interrogation from the customer services representative I was up and running. Gladly I felt secure that PayPal was doing its upmost to avoid fraud and deception, despite the inconvenience and frustration I had encountered getting the whole thing sorted.
However, it made me consider whether I should devise a secure way of storing password and security information for all my online accounts that require this. But if this information fell into the wrong hands it would leave all my accounts open to fraud and deception. Clearly, I need to learn a better password and security information system in my mind that allows me to recall the information in a more accurate way. Any tips?