Obama woos the tech crowd - Mr Cameron, take note
Last night, President Obama hosted a dinner with the leaders of the US technology industry in California.
It was certainly the IT equivalent of the best celebrity bashes, and a rare event to bring together the likes of Oracle chairman Larry Ellison, Apple CEO Steve Jobs (looking thin, but still clad in the trademark black polo-neck sweater), Facebook CEO Mark Zuckerberg, Yahoo president Carol Bartz and Google chairman Eric Schmidt.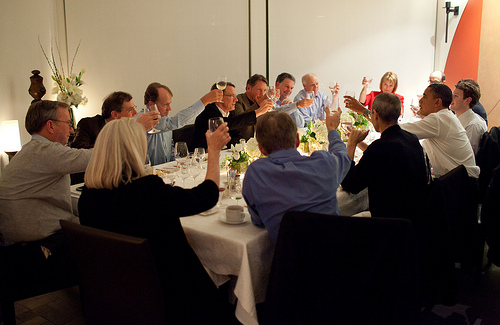 If you're into the subtleties of these dinners, it's worth noting that Zuckerberg and Jobs were chosen to sit next to Obama, with Ellison sitting directly opposite.
You have to wonder what they are toasting: "Congratulations, we're all obscenely rich!" perhaps.
Good to see Jobs there too, rebuking the US tabloid rumours that he is at death's door.
Interesting also to observe who isn't there – no Steve Ballmer, it seems?
Clearly Obama recognises the importance of technology to the US economy – prime minister Cameron please take note.