Lamborghini revs up mobile computing
Okay: you're a PC vendor.
You're offering products in the biggest recession – or is that depression- since the 1930s; you're facing the sharpest sales downturn in the history of the PC industry; your prospective customers are increasing the shelf life of their PCs from around 3 years to 5 years.
In fact you're working in a market on so much of a downward curve that it will likely even kill the seemingly unending boom in notebook shipments
So what do you do with your latest range of notebooks? You of course forge a partnership with a luxury car manufacturer and offer a range of mobile computers inspired by an exclusive company's even more limited range of vehicles. That look like this.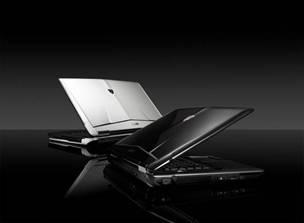 They say that there's a fine line between madness and brilliance.
Whatever you think about launching luxury car-inspired products right now, you certainly have to admire ASUS for its sheer brass…neck for teaming up with Italian car legends Automobili Lamborghini to produce the VX5, a notebook whose chassis is inspired by the limited edition Lamborghini Reventón.
The 16-inch laptop is a pretty powerful beast (as car reviewers may say). Its engine is an Intel Core2 Quad processor and 4 GBytes of memory with a TwinTurbo mode so that users can accelerate CPU and GPU performance via a speed key. A full high definition display is possible from a dedicated NVIDIA GeForce GT 130M graphics card with GDDR3 1 GByte VRAM.
A newly-adopted illuminated 'chiclet' – that's what it says- keyboard automatically lights up in low light conditions, while a Blu-ray disc combo optical drive completes the package of what the makers call a combination of 'panache and power'.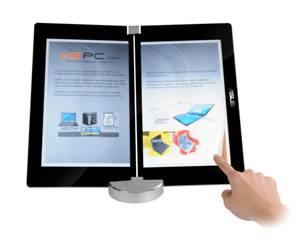 And that's not it. With equal panache ASUS has also unveiled what it calls a 'revolutionary' dual panel concept notebook that is the result of the ideas contributed from users from around the world. As part of the "Community Designed PC" project initiated by ASUS and Intel, the concept is though only a work-in-progress admits the company and one for which continued feedback is required.
Prices for both products were not revealed with their feature details but maybe that's in keeping with the VX5 partner whose products the phrase 'if you need to ask, you can't afford it' usually applies.
In these credit crunched times you could condemn ASUS for seemingly indulging in an ostentatious display. But in fairness the company readily admits that its ambition is to produce devices based on 'impassioned' industrial design which will to provide users with 'not only a functional notebook, but also one that allows them to compute in style while on the move.'
And for those whose tastes are not in the Lamborghini bracket, there is the ASUS K Series, a range of notebooks designed to provide users with 'no-frills' day-to-day computing and 'steadfast reliability'. A bit like everyone else's then… except rather usefully the K Series is said to deliver up to five hours of computing on a 6-cell battery, ideal for the saloon car road warrior.
The car market is an excellent example of where functionality differentiation is low and industrial design is the key in persuading people to make their purchasing choice.
ASUS, who reported a staggering 583.1% growth in year on year notebook sales according to IDC research, obviously knows a thing or two about mobile business. Maybe the company has revealed just how tomorrow's market leaders will stay in the fast lane.