DIY Christmas decorations from the IT store cupboard (top five)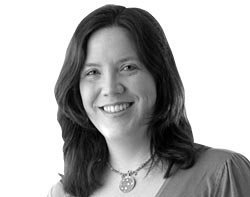 Well, as it's my last week in the office before the Christmas break, I guess it's about time I introduce myself, as James has promised!
I'm Rebecca Froley, and I've recently joined James at ComputerWeekly.com as deputy web editor. If you'd like to know a bit about my background – from Microsoft Encarta, to web sites for builders, via a stint helping make software for vicars – then check out my profile at CW.com.
But enough of that. It's the holiday season, so it's time for some fun…
To help you get into the festive spirit, I've compiled a list of my top five ways to decorate your IT department by reusing stuff from your hardware / media store cupboard…

1. Recycled circuit-tree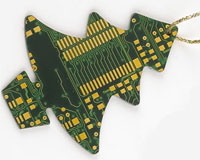 Old green circuit boards are just the right thing for fashioning a ready decorated tree… And Nigel's Eco-store has a whole range of recycled circuit and CD tree decorations available for those who can't quite cut it alone…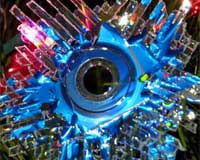 You'll need a pretty powerful shredder for this one, and a far tighter grip on your CDs than the HMRC…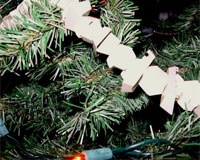 Perhaps not the best photograph in the world, but it's enough to demonstrate what an elegant alternative this could make to tinsel… See it in its full glory wrapped around jcdavis' computer junk Christmas tree.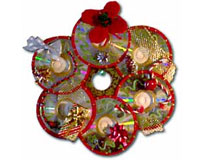 Those old CDs/DVDs are just so right for the season with their 'giant sequin' looks, and this wreath looks nice and festive with its oh-so shiny finish…
5. Tinsel winder
When Twelfth Night comes round, you'll need all the help you can to tidy up, so get your tinsel-tape winder prepared now!
(With thanks to Rach and Dominic for this seasonal entry into our Hardware Hoarders competition!)
And finally, while it doesn't quite qualify as DIY, you really have to see this PacMan Christmas tree spotted by the folks at Make… Ah, those dreams of Christmas past!