Small companies slow to adopt disruptive technologies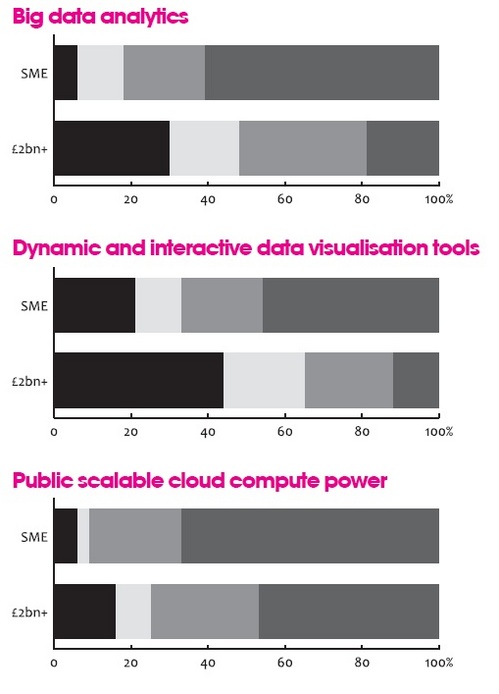 Small and Medium Sized Companies (SMEs) are less likely to adopt new technologies than larger companies, a survey of 268 senior UK business practitioners by Nimbus Ninety reveals.
Over 60% of respondents from an SME said they had 'no current plans to implement' big data and only 6% said they had actually already implemented any big data technologies.
Big Data
This compares to 30% of respondents from organisations with an annual turnover of £2bn or greater who said that they had implemented big data technologies. Only 20% saod they had 'no current plans to implement' them.
Cloud
Other technologies provided similar results. Two thirds of SME s (67%) said public scalable cloud compute power is not on their roadmap for the next three years. For organisations within the higher turnover brackets on the other hand, this figure drops down to 47%.

Visualisation
When asked about their use of dynamic and interactive visualisation tools, 46% of SME s again said they had no plans to implement this technology. For the £2bn+ turnover organisations, the number is just 12%.
These findings could be indicative of two things, says Nimbus Ninety. Firstly there may be greater cost and time barriers to new technologies for smaller companies. Secondly, SMEs may feel they cannot benefit from disruptive technologies – potentially indicating that they do not appreciate the potential impact of these disruptive technologies.
You can find out more about big data, cloud and other emerging technologies by downloading Nimbus Ninety's report: Innovative business technologies in a converging world.