Hacking attacks rise dramatically over past year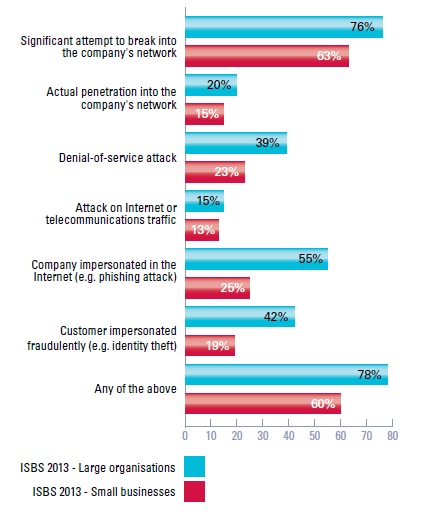 Outsider attacks also increased substantially over the past year, UK government's annual cyber security survey reveals. Small businesses have been particularly badly impacted; 63% report being attacked, up from 41% a year ago. Large organisations still bear the brunt of attacks, with the average company having a serious attack every few days. But, small businesses are rapidly becoming a target too, on average suffering a serious attack once every six weeks.
Case study
The public website of a financial services provider was attacked using SQL injection. Poor design of the site's technical configuration made it vulnerable to the attack. This resulted in the attackers sending a large number of "phishing" emails to staff. This caused a lot of disruption for about a day. After the attack, the company changed its website configuration and also trained staff on security risks.