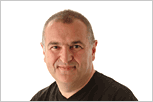 Last night was focussed on some great cc:Mail recollections as a small Band of Brothers gathered in the Swan Inn in Staines to celebrate the first mass usage email system, the man who invented it, Dr Hubert Lipinski and the Lotus Development Corporation who funded the craziness of the early 90's.
The gathering was organised by Jim Moffat who, apart from being a great evangelist for collaboration, is also a mean French Horn player. Jim pointed me at his
YouTube submission
for the
YTSO
(YouTube Symphony Orchestra) which is currently going through an audition process prior to the selected few gathering in Carnegie Hall for a performance.
The idea of creating an Orchestra 2.0 using the Web as the audition process is brilliant, but having made my way over to and watched a few auditions I can't help wondering whether those with good quality AV equipment will have a better chance of being selected than people with simpler set-ups.
It is worth taking a look, follow the links above to Jim or to the promotional site. I am looking forward to see the finished items.
What has this got to do with Groove? Frankly not very much other than all the collaboration that Ray Ozzie has worked on over the years was inspired by the orchestral model whereby people with differing skills coming together to achieve a common goal.
That, as they say, is Collaboration.