With this tweet I thee wed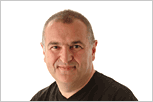 I went to a wedding on Saturday, it was fabulous, very English country – all of the guys in penguin suits and ladies with fascinators. The service struck me as a blend of the old and new, a bit of the King James prayer book juxtaposed with more modern translations of scripture and hymns.
As I sat and enjoyed the formalities I considered that the modern wedding has evolved over time from cavemen dragging their intended partners (male or female, we are not sexist here) by the hair to their lairs as their mating ritual. This has moved on to today's church, registry office or other suitable location for this special event.
With a further evolution of the process I wondered what a web 2.0 wedding would look like?
Would guests be gathered in a Second Life place of worship?
Could vows be exchanged through Twitter?
What about rings being replaced with the exchange of digital certificates?
Physical consummation might be a bit more challenging but there would certainly be a good audience! On the downside the party 2.0 will not be as much fun as today's, with only virtual booze for consumption
Well technology can only go so far!