Wikipedia - Internet minnow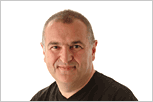 Last night 'English humorist, writer, wit, actor, novelist, filmmaker and television presenter', Stephen Fry presented 'Stephen Fry in America'. This is one of many BBC programmes currently focussed on the US in the final run up to the American election.
Of all the montages that the first episode covered a short interview with legendary Wikipedia founder
Jimmy Wales
caught my atention. During this segment he affirmed that the total number of Employees at Wikipedia is
10.
If ever there was an underlining of the Social in Web 2.0 technologies this is it. We all know that Wikipedia is driven by its contributors however the light touch of the centre is truly impressive and a testament to the power, flexibility and scalability of the emerging technologies.