Where are you IBM? (we now know where MS is!)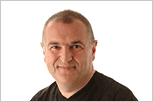 If you talk the talk you have to walk the walk (or so they say). My eye was caught by this posting on the BBC technology page:
'Web 2.0 is set to be embraced by Enterprise 2.0 as businesses prepare to spend nearly $5 billion by 2013 on social networking tools…..The news comes as San Francisco plays host to the Web 2.0 conference on next generation of the web.'
and
"This is where we see the future of the web," said conference co-chair Jennifer Pahlka. "The companies making announcements here are building that future."
Today at Web 2.0 we have seen Microsoft's pre-emptive strike (or is that 'we can do that too' strike) at all of its competitors (read this posting for details) however its all been avialable to see in bits for some time, considering this has been so predictable its doubles or trebles my frustration with IBM.
I thought considering all the IBM hype at Lotusphere around Web 2.0 there would be a big effort to promote Connections and Quickr at this event at the very least. So I trawled the Agenda and a) noticed that IBM is a headline sponsor and b) it considers the following to be the key Web 2.0 messages they have to offer at what seems to be an (one of many) important event;
One IBM session s titled 'Innovation Matters for the Next Generation Web' focussed on data centers, i.e. hardware and their other session 'IBM: Web 2.0 Goes to Work' is focussed on IBM's navel (as ever). When you compare this to 'Building a Microsoft RIA from the Ground Up' from you know who, we see in stark relief one of the key IBM problems which to me can be encapsulated as follows.
IBM believes Web 2.0 is just around the corner, everyone else (especially Microsoft and Google) has turned the corner and letting the world know where they have got to.
After I have read more I will blog on the significance of the Mesh Live announcement and where it takes SaaS as a whole. It could be that today is a date that will go down in the annals of Wikipedia as a tipping point.
I would have liked to go to this conference (Computer Weekly are you paying attention) to listen, learn and engage. I am sure many others are there for the same reasons. But based at least on the agenda I certainly would not have spent one mental tick considering attending IBM's sessions (I know I'm prejudiced) however most ambivalent companies would not recognise from the IBM messages much worthwhile coming from Big Blue and that is a shame.
As for Lotus, it does get a mention as a sort of footnote in the booth pitch. Why am I not surprised.
I am pleased to see Bruce Elgort has picked up on this story, let's see where it goes. Stuart McIntrye has posted a interesting bias-blog entry re the BBC website, interesting I have seen huge coverage of Apple launches over the past few years and it has struck me that there is a pro-MS bias in the business area and a pro-Apple bias in the technology area and a complete ignorance of IBM is most areas (I wonder why that is)