Where are all the 'plucky' Brits?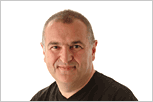 So the Olympics are over. Hype, Heroes and EPO put away for another 4 years until the Circus comes to London.
This big question right now is: Where are the 'plucky' Brits? the gallant losers for whom taking part is more important than winning. Where are the competitors that fail to qualify for the final by .001 sec or miss out on Bronze by 1 point.
Who is this new breed of sportsmen and women that just knows how to win, this breed that is way ahead of the French, giving the Russians a run for their money and best of all making the Aussies eat a bit of humble pie.
Where are the noble losers? – I for one won't miss them.