What is the Danish for Schadenfreude ?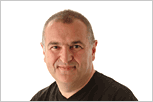 Schadenfruede, well maybe its not really the feeling I have right now, but 'deja vu' is much less exciting as a headline!
You do have to admire IT Factory, most of it went bankrupt in 2001 as a consequence of some appalling management decisions. Yes I was a junior member of that management team but I can faithfully assert that they were not decisions of my making and they still rankle in my memory.
Having screwed up life for many people in the US, UK, Netherlands, Australia and I suspect a number of other countries, a new 'improved' IT Factory with a new management team rose from the ashes.
Frankly I was gob-smacked to see the brand new ITF in all its infamy being promoted by IBM at a number of Lotuspheres in recent years. However all seemed rosy in the state of Denmark and on the face of it, profitable.
But they say what goes around comes around and the new, improved company seems to have done it again, but this time for a much bigger number. It seems that on this occasion it is not just management weakness and avarice that caused its downfall but there appears to be more of a bad smell as to the way the business was pretending to do business. According to the Register:
"Interpol is seeking the missing boss of a bankrupt Danish IBM reseller IT Factory, who is suspected of frauds totalling $85m.
Local police are also investigating a brutal attack on a reported business partner of Stein Bagger days before his disappearance."
I am not revelling in ITFs failure, more people will have suffered – but it might say something to the effect that some IBM Partner models are not sustainable in the current economic climate leading to unpleasant consequences. I hope not.