We have the group, now we just need the users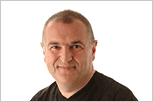 I went to the second ever Groove User Group meeting last evening. We were entertained by Microsoft at their plush offices in Victoria. The space, furnishings and location makes my IBM friends location on the Southbank look positively East German!
I have taken an interest in Groove since Ray Ozzie left Lotus to found the company. Groove is like a cousin of Lotus Notes, similar but growing up in a divergent direction. The important issue to hand is that Groove offers customers of Microsoft a secure, mobile, flexible and strategic collaborative platform now and into the future. Sharepoint users should be particularly attentive to what Groove currently offers them and keep an eye on what is coming in the future.
Former Lotus employee and now Product 'something' Manager (or some similar title) and top man Hugh Pyle presented strategic direction to us over the wire from Groove HQ in Beverley, Ma (just up the road from Lotus engineering). Nothing he said was of great surprise to me. It is reassuring that Microsoft customers have the opportunity to collaborate in teams in a similar but different manner to that which IBM customer have been achieving for years.
If you are interested in what Groove is offering right now and where it is going in the future, check out the User Group website and make yourself known. The next meeting in early April. Book now to avoid sitting room only.