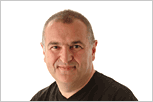 I have been wondering about the viability of the plethora of social communication tools that seems are emerging at a rate that is frankly un-supportable in all but the short term.
The desire to communicate is fabulous however are we really achieving any fundamental ideals?
After the flood the people tried to reach the heavens and then
:
Genesis 11:4. God seeing what the people were doing, confused their languages and scattered the people throughout the earth.
I wonder if in a non-spiritual way we are descending into a confusion of communication out of our own technical hubris and being slaves to the medium, not masters of it?