There is a 50% chance your CIO does not care about your output!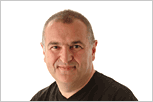 A very interesting piece of research has come to light as
reported by Computer Weekl
y. The report from Original Software and which cites IDC states:
'
When asked how the importance of their software quality is perceived within the business, more than 40% of CIOs admitted "not at all" or "as a nice to have".
The Original Software study follows a recent IDC survey which revealed that more than 40% of all software applications are released with between one and ten critical defects, with the management being fully aware of this at the time of issue'
This I suspect does not surprise many of us but it is a damning indictment of CIO's that court 'Profile' ahead of the solutions they may be responsible for.