The outer reaches of the corporate hurricane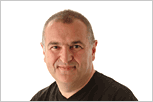 My organisation is very frenzied right now with internal stuff (just after halfway through our year), product stuff (I would tell you about it but I would have kill you) and initiatives going off a-plenty.
Of course I have chosen to take this week off as vacation and it is now turning into a bit of a busman's holiday. My wife is getting a bit fretful with me but the who work-life balancing acting is keeping my brain-cell firing.
The ubiquity of the Net means whether by PC, Mobile Device or Semaphore (I exaggerate), news and calls to action know no boundaries. I wish like some I could just switch off, but the thought of what the size of my inbox would be on my return is just to horrific.