The dis-integration of Domino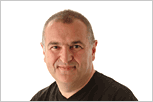 I had to watch Lotusphere from afar this year and try to read the runes coming from the partner Blogosphere.
Although there were many 'announcements' they seemed to be mostly re-spinning of information that had been fairly clearly signposted the previous year at Lotusphere 2008.
It is not that there was no new stuff, but what was fresh was either being delivered in Websphere or recently purchased platforms..
It seems that although IBM is clearly signposting its support for core Notes / Domino for the foreseeable future, innovation will come and be delivered from different directions.
Quickr (nee Quickplace), Sametime are both drifting away from their origins which may be technically better but does make IT planning a bit of a chore when you have multiple administrative interfaces over many more server types (virtualised or physical) to cope with..
IBM and Microsoft are watching the progress (or lack of it) of Google into the Enterprise, and as result of this activity I ran across this quote from CIO.com that I found quite shocking:
"Google Apps was definitely bought as an additional tool set, but Lotus Notes

will be disappearing as a result of this," Beale said. "It will take a while

because we have a range of applications running on Domino but Notes as a mail

platform will be phased out, I suspect. "
Of course I have an axe to grind but I think IBM partners need to take a close look at the Google axe before they become victims.
I cannot help wonder as the Domino Server platform goes through yet another round of optimisation and looses the dumped products (Domino.Doc and others) maybe it is like the Curious Case of Benjamin Button and grows younger through the years and ends its eventual life as the Notes Server.
Those of you who drank the cool-aid in Orlando might after a months reflection let me know if I am right or wrong. I am on vacation right now and I fancy a bit of banter over the coming week.
This entry is timed to post as I take-off!